How to occupy your kids during the pandemic (the academic version)
Spend your best energy on creating a sustainable rhythm right now, okay?
First off, if you haven't already been homeschooling, you're not homeschooling now. You're suriving. You need to keep your standards low. Lower than you think. Your baseline needs to be:
Keep everyone fed + safe
Don't yell at anyone
Try to keep your income steady
Your kids are honestly going to be just fine if they spend the next 6-8 weeks doing nothing but watching TV and eating junk food. I promise. They'll recover. And they'll probably have the happiest memories of it all!
Let me reiterate: you do not need to recreate the classroom experience at home. You need to create some semblance of order out of the chaos everyone is feeling. If that means giving your kids fun academic adventures to embark upon while you try to get some work done, great. Here's your list.
Cheap rewards
Go ahead and break your Amazon ban to get some cheap junk to motivate behaviors amongst the K-6 crowd. It'll be worth it. Here are my picks (affiliate links because my family is hustling to pay bills this month - thanks for supporting us!).
Toy Advent Calendars - They're on sale right now! And they've got a built in reward system in place. How perfect!
Japanese erasers - Even bigger kids love these. Our local Japanese shop holds a diorama contest every year. Once you've handed out your stash as rewards, give independent kids a challenge to create their own shoebox diorama.
Mochi squishies - These are all the rage at our house. The most favorite ones are the bizarely deformed. If you have a kid who likes squishy fidgets, they're perfect.
If you don't want to fill up your home with cheapo Made in China crap, I don't blame you. You can always use cold, hard cash (literally - quarters, max, or you'll bankrupt yourself) for motivation, or have kids chart their progress toward a bigger prize.

Science & Math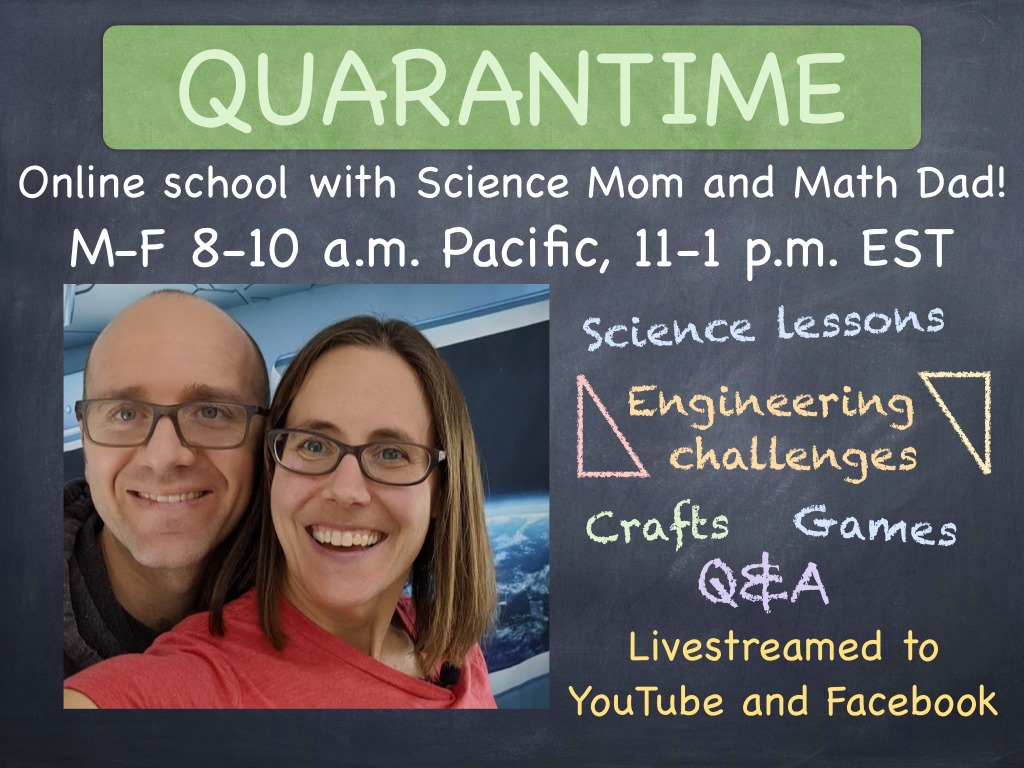 ScienceMom and her husband, Math Dad, will be offering a free livestreamed daily show featuring science and math lessons, crafts and games geared toward ages 7-12. They'll be available later on her YouTube channel. If you don't want your kids loose on YouTube, check out the videos on her website. She has a Patreon with even more videos, and the ability to pay her for her work!
Frontiers for Young Minds "provides a collection of freely available scientific articles by distinguished scientists that are shaped for younger audiences by the input of their own young peers." They're wonderful!
The Cincinnati Zoo is going to do "Home Safaris" on Facebook Live, featuring some of the animals while the zoo is closed. Weekdays at 3pm ET.
A huuuuuge list of (mostly) free science resources from the wonderful Insufferably Intolerant Science Nerd. (Language alert!)
Starfall was a great kid-distractor when our eldest was little. They have plenty of free K-3 math and language games to play.
I've already been concerned about our 4th grader's lagging math abilities, so I downloaded the Prodigy math game for her to try out. She loves it! There's a great parent dashboard to track progress and reward engagement.
Arts & Culture
The Metropolitan Opera is doing live HD video streams of past performances during the quarantine, every night at 7:30pm ET. Here's the schedule.
The British Museum offers an amazing interactive tour of historical artifacts. It includes images and narrations from curators.
Google's Arts and Culture project is comprehensive and astonishing. I love the 360 degree views of iconic landmarks, and street view tours around the world.
The Louvre is closed to visitors for the foreseeable future, but you can visit a few collections via their virtual tour!
This art studio in Paducah, KY is going to offer Facebook Live art lessons every day for the next 3 weeks at 1pm CT.
My FB artist friend TL Duryea is doing live painting streams every day. She's the artist behind the Sheroes project.
Our favorite online story provider has a bunch of free stories and resources for families stuck at home. If you haven't listened to Sparkle Stories, you're in for a treat!
Exercise & Movement
The daughter of one of my Facebook friends is doing wonderful dance and creative movement classes for kids. Move with Skylar is on FB live most weekdays at 5pm ET, and the videos are archived there after about a day. She has a Youtube channel and will hopefully put all the videos there as well.
We love Cosmic Kids Yoga! You can find her adventure themed yoga videos on Facebook or YouTube.
Geocaching is probably an acceptably socially distanced outdoor activity in most places.
Charity and the JAMband has moved their Music, Dance, Mindfulness for Humans of all Ages and Stages for free online. Donations requested but not required.
BalletNova Center for Dance in Northern Virgina is livestreaming free dance classes. (Times listed are Eastern.)
The Debbie Allen Dance Academy is hosting Zoom dance classes. The schedule is on their website.
Dancing Alone Together is curating a beautiful list of all the digital dance opportunities popping up during the quarantine. It's lovely! (I have friends who are highly recommending Mark Kanemura's instagram live dance sessions.)
Multi-disciplinary resources
Open Culture has a dizzying amount of content. I've linked you directly to the free K-12 resources list.
Scholastic is opening up 20 days of their Learn at Home resources over the next 3 weeks. You have to create a free account, but it's easy. They've got daily curricula for grades Pre-K through 6th.
Here's an enormous list of educational companies offering free content during school closings. It's getting updated regularly!
Khan Academy has this helpful tutorial for how you can use their resources for remote learning.
Outschool is offering some free classes (limited to $100 worth per family, due to funding). You need to sign up to see what's available. Please consider helping fund this endeavor if you can!
Entertain Kids on a Dime has a roundup of 100 activities to do at home during school cancellations. They look to be mostly geared toward younger elementary ages.
We loved ABCmouse when the kids were little. Now they have Adventure Academy - an educational MMO for 8-13 year olds. Your first month is free.
A list of 30 virtual field trips to take.
This guy is doing A Week of Awesome Afternoon Adventures every day this week at 2pm CT. He'll be visiting giraffes, touring a police car, and other cool stuff.
I hope this list is helpful. But please, don't add unnecessary pressure on yourself and your kids right now. Do what it takes to keep everyone safe and fed and financially supported. <3
Join the newsletter to receive the latest updates in your inbox.