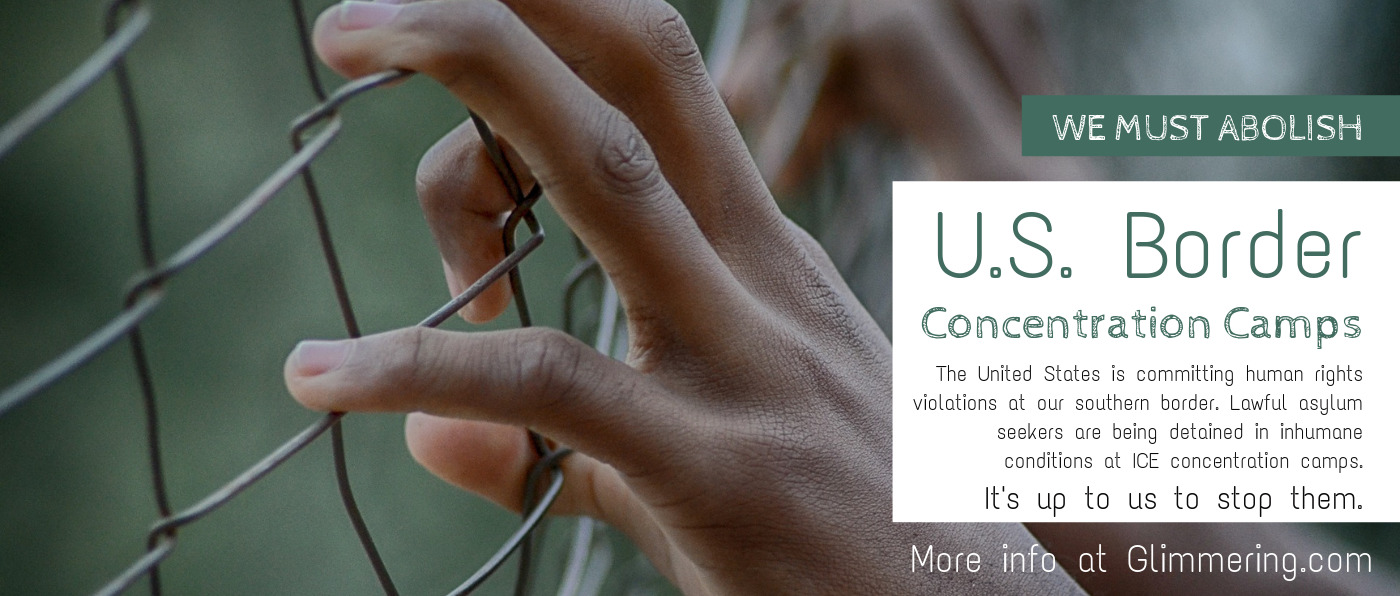 End U.S. Border Concentration Camps
The United States is committing human rights violations at our southern border. Lawful asylum seekers are being detained in inhumane conditions at ICE concentration camps. It's up to us to stop them.
Learn more about the U.S. border concentration camps
Can we really call them concentration camps? "Yes," says the last living prosecutor of the Nuremberg trials. That's good enough for me.
Elizabeth Cronise McLaughlin has a harrowing twitter thread about the current border situation that is a must-read.
Jill Zwiers has been taking food and necessities to Tijuana shelters and connecting asylum seekers with host families since the "Migrant Caravan" started arriving last year. Here is what she hears from everyone who has been in an ICE concentration camp.
More corroborating articles from TexasMonthly, CNN, and the AP.
Freedom for Immigrants has an exhaustive FAQ that covers all the most commonly asked questions about immigration, immigrant rights, human rights violations, open borders, etc. It's a wonderful resource to help you become more fluent about these issues, especially if you are engaging in conversation with deniers or anti-brown-immigrant types.
The news cycle is bringing more information than I can keep up with here. If you need help finding trustworthy sources for up to date news, contact Laura.
What you can do
First and foremost, make noise to your representatives about this. 5Calls.org and Resistbot can both help you get started. Here's what to ask them to do. Call or write every day. Show up at your representative's local office, if you can. Encourage your friends and family to engage as well. Participate in your representative democracy while it still exists!
On July 2, attend a #CloseTheCamps protest. Find a location near you.
On July 12, join Lights for Liberty: A Vigil to End Human Detention Camps. Big, visible demonstrations hold a lot of power. Show up. If you can't physically make it to an event, light a candle at 9pm (your time) and share your action via Facebook live @Lights4Liberty, Twitter @lights4liberty, Instagram lights4liberty. They are using #lights4liberty #dontlookaway #endusconcentrationcamps.
Leverage your skills, talents, and resources to contribute to ending the human rights violations occurring at the border. Laura is running a raffle for a $100 Wild Goose Guidance gift certificate. What can you do?
Support existing efforts
Please, please do not start your own thing. There are groups who have been at this longer than any of us have been aware of it and we need to rally around them now. I've chosen these four groups because they tend to the symptoms of the abuses of power as well as cutting them off at the root. These groups offer legal assistance to immigrants; work to abolish immigration detention centers globally; protect and strengthen democratic institutions; and work to make US elections more accessible, equitable, transparent, and safe.
RAICES: This Texas-based organization promotes justice by providing free and low-cost legal services to underserved immigrant children, families, and refugees. Donate here.
Freedom for Immigrants: This California non-profit is dedicated to abolishing immigration detention worldwide, while ending the isolation of people currently suffering in this profit-driven system. Donate here.
Lawyers for Good Government: This group of lawyers' mission is to protect and strengthen democratic institutions, resist abuse of power and corruption, and defend the rights of all those who suffer in the absence of "good government." Donate here.
Alicia Garza's recent post reminded me about how important it is to strike at the root if we want any hope of ending these atrocities. That's why I'm including Common Cause, an organization that is working to make US elections more accessible, equitable, transparent, and safe. (For a sobering look at how unstable our elections are, read this Election Security report from the Center for American Progress.) Donate to Common Cause here.
Above all, don't give up hope. Keep championing good in the world, in your circle, within yourself.
Join the newsletter to receive the latest updates in your inbox.