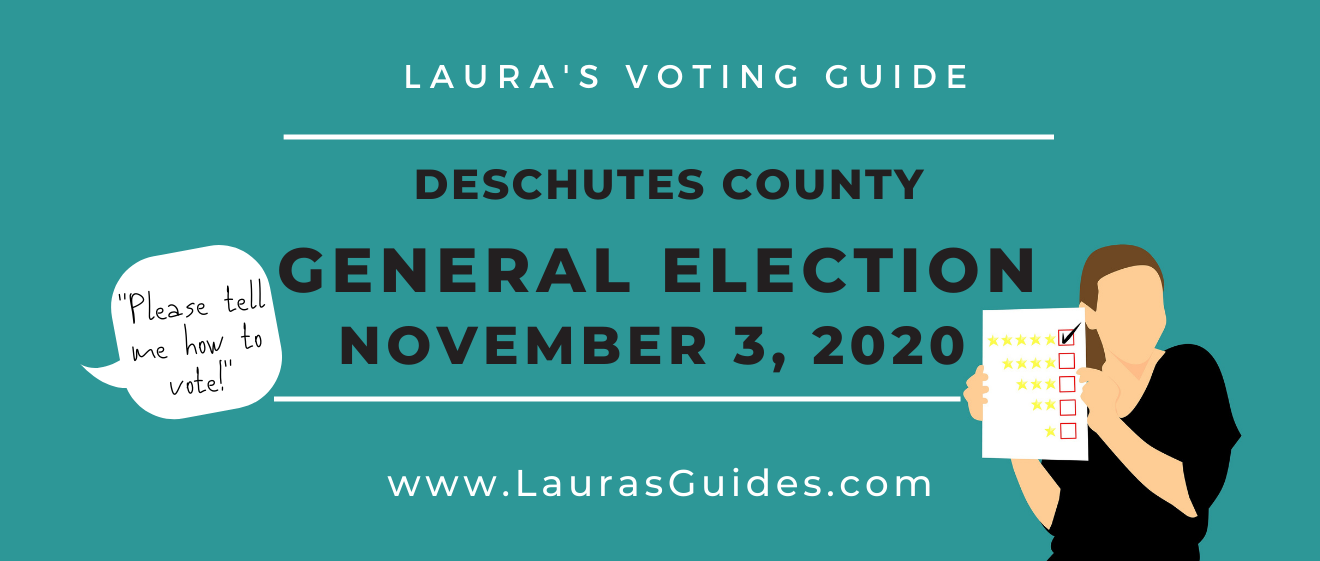 2020 General Election Voting Guide: Deschutes County - November 3, 2020
Welcome, voter!
It is our privilege and responsibility as Oregonians and US citizens to vote in every election. When you demonstrate your engagement, you inspire others to participate!
I do this work for you and nothing makes me happier than to know it helped you fill out your ballot thoughtfully and intentionally. Thank you so much for reading and voting! ‌
---
Disclaimer
My vote recommendations are based on my own research and do not represent any entity's opinions but my own. I vote liberal/democrat/progressive. When other factors are equal, I favor the candidate that is the least cis/hetero/male/white/old; who is aware of and working on their own implicit biases; and who is committed to improving equity, accessibility, and inclusivity within their jurisdiction.
I've included summaries of why I'm voting the way I am, and links to more information on candidates, when available, in case you want to be an informed voter. I'm open only to discussion based on actual facts, that respects the work I've done here already. If you disagree with me philosophically to begin with, my guess is that it's going to be a waste of both our time to discuss. But if you think I've erred within my own set of beliefs, I would appreciate your input!
The comments are open on this post (and on my social media) and I expect you to be kind and decent. I have a very large, very heavy ban hammer that I will not hesitate to swing. This is my online home; be good.
Pay me for my work
What started out as a favor to friends (to keep them from randomly filling in bubbles on their ballots!) has turned into a significant piece of my community service. My voting guides will always be free to use and share, but they've never been free to make. The guide I've written for you here represents at least 40 billable hours of my time, researching, info-gathering, and writing. If this guide helped you fill out your ballot and you're able to, you can pay me for my work: PayPal.me/laurasguides or Venmo: @laurajoycamacho.
Copyright
Please feel free to share this Voting Guide with your friends and on social media, as widely as you can. If you choose to quote any part of it, you must credit my work and link back to the original. ‌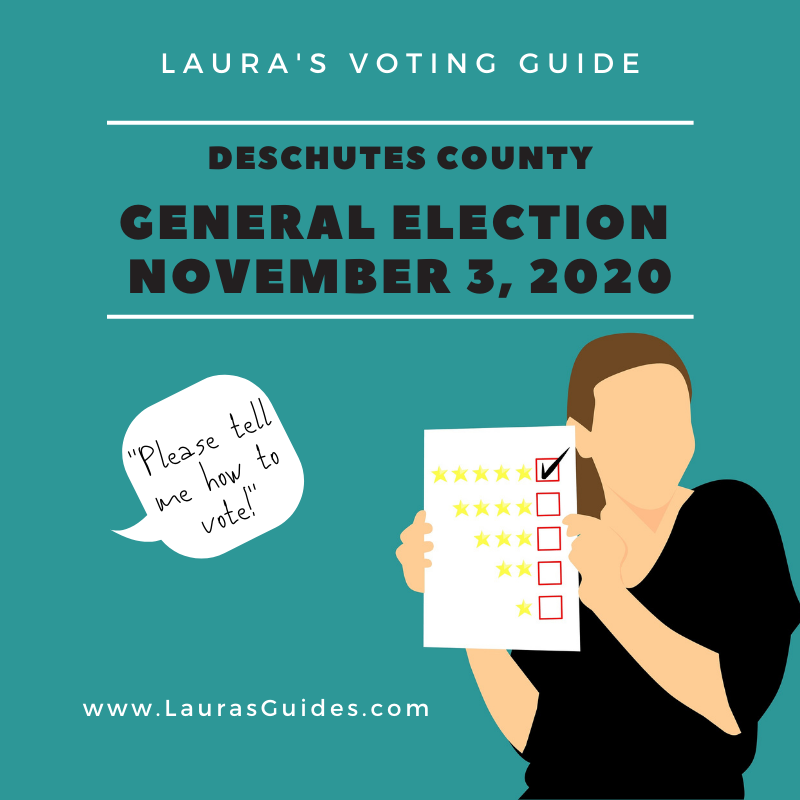 ---
Now Vote!
I'm using the Voter's Pamphlet that you can find here. Your ballot will be mailed to you on October 14. If you think it has gotten lost in the mail, or is damaged in any way, contact your county elections office and they'll help you out.
The last day to register to vote or change your political party affiliation for this election is October 13.
YOUR VOTE IS YOURS. If you are unhoused, you can still vote. If you need disability services, they are available. If you feel threatened or manipulated to vote a particular way by someone, or if you feel unsafe in any way right now, there are so many people available to help you.
Keep in mind that not everything I cover here will be on your ballot; your ballot only allows you to vote for the measures and candidates in your particular area of Deschutes county, plus the statewide candidates and measures.
Your ballot must be mailed no later than Tuesday, October 27, to arrive at the Deschutes County Election Office by 8:00 pm on Election Day (but please fill it out and mail it ASAP!). Or you can drop your ballot at any of the secure ballot drop boxes throughout our county, beginning on October 16.
President of the United States of America: Joe Biden
The lives and futures of my family and friends quite literally depend on halting the erosion of our democracy under the GOP regime. Voting for Joe Biden is a chess move toward a future that includes human rights for my family and an environment and economy that can sustain our lives.
Merkley has been a stalwart progressive voice in Congress throughout his career and a strong voice of integrity pushing back against the Trump administration. I want to keep him in the Senate until he can be replaced by someone less cis/hetero/male/white/old is ready to fill his shoes. I'm hoping that will be after this term, as Merkley will be nearing 70 by then.
US Representative, District 2: Alex Spenser
Spenser is a VBNMW vote for me; I endorsed Nik Heuertz for the primary and my opinions haven't changed with more exposure to the candidate. Spenser is running against Cliff Bentz, an unabashed MAGA Republican who is bent on perpetuating and perhaps even escalating Greg Walden's destructive legacy in our district.
Bentz is almost certainly going to win this election - it has remained red for decades. We need to work hard to produce a Democrat candidate that can win in 2022. Jamie McLeod-Skinner showed us what was possible in 2018 as the first candidate opposing 20-year incumbent Greg Walden to win more than 30% of the vote. It will be difficult to flip this district, but I think we can do it with the right candidate.
You can watch Spenser's interview with the Deschutes County LWV and City Club Candidate Forum here. Bentz declined to appear.
The Secretary of State is an incredibly important race for Democrats to win this election, as the SoS will oversee redistricting in 2021, and Oregon is likely to add a congressional seat. Since the GOP's main "winning tactic" is aggressive gerrymandering, we simply cannot afford to risk a Republican Secretary of State.
Shemia Fagan is tough, intelligent, and compassionate to the everyday issues Oregonians face. She will protect our highly effective and completely secure vote-by-mail system and audit the unemployment department to figure out why it was such a clusterf*ck when the pandemic hit. I can't say enough good things about Fagan. She is exactly the kind of public servant I want to see throughout our government.
Watch Fagan's interview with the League of Women Voters Washington and Clackamas County, Oregon.
Read is the Democrat incumbent and ran uncontested in the primary. I wrote extensively about the counter-campaign against him, and the importance of campaign finance reform, in my primary voting guide.
Rosenblum is the incumbent AG and seeking her third term. When she was elected in 2012, she was Oregon's first Jewish and first female attorney general. With her roots in Reform Judaism and as a member of Congregation Beth Israel, Rosenblum is committed to pursuing justice for the most vulnerable citizens among us.
Rosenblum is running against Michael Cross, who has a thinly veiled Trumpian platform. He is very "Back the Blue," an anti-mask Reopener, and the founder of the highly misogynistic "Flush Down Kate Brown" (failed) effort to recall Govenor Brown. He's super gross.
This summer, Rosenblum took on Trump's goons in Portland with an attempted restraining order against the federal agents who were kidnapping protestors off the streets. I feel safer with a Jewish woman lawyer as a watchdog against authoritarian overreach in our current timeline!
State Senator - 27th District: Eileen Kiely
Kiely is running against Republican incumbent, Tim Knopp, who positions himself as a moderate.
Over the last 4 years, I've found Knopp increasingly intolerable - especially as he smugly participated in the senate walkout last year that cost us meaningful progress in climate momentum, education funding, and gun control. Among many other votes I adamantly disagree with, I find completely unforgiveable Knopp's his No vote against HB 4145 - the bill that prevents convicted stalkers from possessing firearms. He also claims to be a "champion for affordable housing," but also voted against the prohibition of no cause evictions (side note: check out that egregious typo in the second bullet of the Highlights section). Time to replace him.
Kiely is a former Girl Scout and student activist, and a Navy veteran with a passion for the outdoors (she was a climb leader with the Mazamas mountaineering group). She used her MBA to grow her professional career with Freightliner (now Daimler Trucks North America) trucking company, where she "managed the controlling operations for the North American parts operation, truck brand pricing, and finally purchasing, responsible for $500 million dollars in contracting negotiations each year." She also used her position to "the most ethnically and gender diverse workgroup in the department" (source).
I endorsed Kiely's 2018 run at State Representative, and was disappointed she was out of district for me. But the senate districts are different, and I get to vote for her in 2020!
I look forward to voting for a woman who cares about and works for statewide improvements to the issues of diversity, equity, and inclusion; climate change; health care; common sense gun laws' and economic stability.
Watch Kiely and Knopp on the LWV and City Club Candidate Forum 2020-Oregon State Senate District 27. Watch Keily's interview with The Source Weekly here. You can also watch her in the round table with Jamie McLeod-Skinner that included Levy, Miller, and Kropf.
State Senator, 28th District: Hugh Palcic
Palcic is running against Republican incumbent Dennis Linthicum, whose infamy includes supporting the multiple Republican senate walkouts and a disgusting invocation of the death of Eric Garner when opposing an Oregon cigarette tax.
Palcic is the general manager of the Sunriver Owners Association and the Oregon Liquor Control Commissioner. He also sits on the board of the Bethlehem Inn, one of my favorite local non-profits. He recently sat down with Jamie McLeod-Skinner's Rural Leaders Town Hall conversation.
State Senator - 30th District: Carina M Miller
Miller was borned and raised on the Warm Springs Indian Reservation, where she still lives today. She is an enrolled member of the Confederated Tribes of Warm Springs and is a research analyst working on the Vibrant Tribal Economies (VTE) project with the Warm Springs Community Action Team.
After lots of grassroots and student activism at University of Oregon, where she earned her BS in Ethnic Studies, Miller was the energy committee co-chair for the Affiliated Tribes of Northwest Indians for three years. She is the president of the Native Caucus for the Democratic Party of Oregon, and was appointed by Governor Brown in 2019 to the Columbia River Gorge Commission. Her resume is impressive!
It is long past time for Oregon to elect our first ever Oregon Tribal member to the state legislature. Furthermore, Miller's top priorities are water, education, and environment - basically the top three things her opponent voted against during his short career as state senator.
Bend City Council candidate Anthony Broadman interviewed Miller in episode 11 of his State of Bend series. She also appeared in the round table with Kiely, Levy, Kropf and McLeod-Skinner.
State Representative - District 53: Emerson Levy
Levy is running to unseat Jack Zika, who in March joined another Republican walkout in Salem, for which he received special honors from the NRA (of which he is a member, since 2017).
Levy is an attorney with experience as a public defender, workers' comp hearings, and real estate law. She's the mother of a child with special health needs and has empathy for working parents struggling to keep their families healthy, housed, and educated. Levy also cohosts the Family Personalities podcast, which explores how Myers-Briggs, Enneagram and other personality type models can help change the way you see your family. (Full disclosure: Leslie and I were recently interviewed!)
Levy's foundational beliefs are geared toward supporting affordable housing, childcare + education, healthcare, and the environment. Levy and Zika were recently on the City Club and League of Women Voters candidate forum, which you can watch here. You can also watch her in the round table with Jamie McLeod-Skinner that included Kiely, Miller and Kropf.
Levy is very engaging and speaks intelligently and compassionately on all subjects. My District 53 friends are lucky to vote for her!
State Representative - District 54: Jason Kropf
You may remember my reluctance to vote for Cheri Helt for this position back in 2018 and I'm sorry to say that a lot of my concerns about her Trumpian cronies pulling her farther from her moderate stance have come true. Her recent smear campaign on Kropf's DA record has showed how grotesque she is willing to be. (Read Kropf's statement about it here.)
Jason Kropf is Deschutes County's Deputy District Attorney and was my endorsement in last year's election for the Bend Metro Park and Recreation District Director Director, Position 2. Kropf is a former public defender who worked mostly with families in crisis and foster situations; he now carries the juvenile caseload for Deschutes County and sits on the board of directors for CASA (Court Appointed Special Advocates).
Kropf is an Oregon League of Conservation Voters-endorsed candidate who "will fight to protect Oregon's air and water, preserve our public lands, find solutions to the climate crisis, and create a brighter future for all of Oregon's people."
His advocacy work with vulnerable communities, and his lifelong career as a public servant will inform his role in our state house. He will prioritize public funding and legislation to keep Oregon families safe at home and school, and our beautiful state environment thriving.
As I've watched the race unfold, I have been consistently impressed by Kropf's integrity. He is a good man, in a world where good men seem to be in short supply.  I'm thrilled to get to vote for a solid, trustworthy progressive choice in District 54.
You can watch Kropf in the round table with Jamie McLeod-Skinner that included Kiely, Miller and Levy. You can watch his interview with The Source Weekly, here.
State Representative - District 55: Barbara Fontaine
I was glad to see that Fontaine has a candidacy presence online since the primary! She is a retired 30-year USDA Forest Service worker with her degree in Forest Management and is running on a platform that values well-funded social safety nets, Black Lives Matter, and climate change mitigation. You can watch her in a Zoom town hall on climate change, wildfires and leadership on October 10th - 5pm to 6pm, hosted by Hugh Palcic. RSVP here!
Fontaine is running against Vikki Breese-Iverson, whose campaign video is full of hay and tractors and cows. Her platform is your basic rural Republican combo of guns, water rights, Blue Lives Matter and "small government."
FYI - when Breese-Iverson says "Medical Freedom" and "Fighting for our Right To Choose" she's only talking about refusing vaccinations - definitely not a medical freedom that includes womb-having people's access to reproductive care or their right to choose an abortion. I'm personally enraged by this breathtaking hypocrisy.
State Representative - District 59: Arlene Burns
Alrene Burns is the 3rd-term mayor of Mosier, Oregon, former director of Mountain Film festival, and Caretaker of the Gorge. Fun fact: she was one of Meryl Streep's coach/trainer/role model and one of two stunt doubles for the movie "The River Wild!"
Burns values collaboration and innovation to survive the post-Covid world. Her platform includes affordable and accessible healthcare, support for locally owned businesses, tribal representation, rural broadband and education initiatives, land stewardship to mitigate climate chnage, and clean energy.
Burns is running against incumbent Daniel Bonham, whose voting record is basically a long swath of Nos. He voted against HB 4145 - the prohibition of convicted stalkers and domestic abusers from possessing firearms. No one who calls himself a family man can be forgiven for voting against a bill that has been proven to keep women safe from their abusers.
You can watch Burns on the Rural Leaders Town Hall, here.
Judge of the Circuit Court, 11th District, Position 4: Alycia N Sykora
Sykora was appointed by Govenor Brown in 2019 and is now running unopposed to keep the position. You can read an interview with her in The Source Weekly from when she was first appointed.
Measure 107: YES
Amends Oregon constitution: Allows laws limiting political campaign contributions and expenditures, requiring disclosure of political campaign contributions and expenditures, and requiring political campaign advertisements to identify who paid for them.
This measure is about tightening up our campaign finance laws and making political money movement more transparent. The only reason I can see that you wouldn't be in favor of this is if you wanted to hide who was supporting your campaign.
All Democrats and even a fair number of Republicans (our state rep, Tim Knopp included) agree that this is a good way to go. Most of the statements of opposition were furnished by Kyle Markley, the Libertarian candidate for Secretary of State - yikes!
Measure 108: YES
This measure increases the cigarette tax by $2 per pack (plus maximum tax on cigars to $1 per cigar). The tax increase will fund health care coverage - including mental health services - for low-income families. It will also fund public health programs, including prevention and cessation programs addressing tobacco- and nicotine-related diseases.
Note that the "vape tax" does not apply to approved tobacco cessation products or to marijuana inhalant delivery systems. This is a well written measure that will hopefully sail right through, helping to fund the Oregon Health Authority.
Measure 109: YES
This measure allows the Oregon Health Authority 2 years to develop a Oregon Psilocybin Services Program to allow licensed/regulated production, processing, delivery, possession of psilocybin exclusively for administration of psilocybin services by licensed facilitators to qualified clients.
Psilocybin is a valuable medicine to many struggling with pharmaceutical-resistant mental health issues. You can read more about this emerging therapy here.
I'm a yes vote on this because it is a very well written measure (it takes up 23 pages in the voters' pamphlet!) that ensures the safety of patients under the oversight of the Oregon Health Authority. This is no slap-dash "Legalize!" type of bill. This is a group of mental health experts who are ready to offer Oregonians an alternative treatment for our mental health support.
This rundown in the voters' pamphlet from Sergeant Paul J. Steigleder II (Ret.), Clackamas County Sheriff's Office clarifies some FAQ about the measure:
There will be a two year rule-making period during which the strict licensing and regulatory framework will be constructed.
Psilocybin therapy is not for everyone, so this measure requires that clients complete a risk assessment prior to the treatment.
The treatment will take place at a licensed facility, in the company of a licensed facilitator only.
These facilities will not be located near schools and minors under the age of 21 will not be eligible for this therapy.
Psilocybin will not be available to buy in stores or to take home, will not be legalized for recreational use, and will not be branded or marketed to the general public.
(Me again:) We did this for medical marijuana and it changed lives. Psilocybin therapy has been remarkably supportive for veterans and others with PTSD, alcohol and nicotine cessation, generalized anxiety, depression, etc. Many doctors, nurses, veterans, and citizens with their own success stories endorse this bill. Let's add this modality to help fight Oregon's mental health crisis, where appropriate.
Measure 110: YES
This measure (The Drug Addiction Treatment and Recovery Act) provides addiction recovery centers/services partially financed by marijuana taxes. It reclassifies possession of specified drugs and reduces possession penalties. OHA establishes council for oversight. Secretary of State audits biennially.
This measure is straight up criminal justice reform - yay!
Instead of punishing drug possession, it connects people with the resources to fight addiction (including housing assistance!), or fines them without destroying their lives with jail and a criminal record. It makes low barrier addiction recovery centers available in all parts of Oregon, open 24 hours a day.
The biggest reason to vote YES on this measure is that the research shows its passing would reduce racial disparities in drug arrests by 95%, and drug convictions of Black and Indigenous Oregonians would drop by 94%. (This is a modest estimate, as it doesn't take into account the racial inequities that exist in other areas of the criminal justice process like police stops, etc.)
The Drug Addiction Treatment and Recovery Act directs all marijuana revenue above $45 million to go to services such as drug addiction treatment, recovery, harm reduction, peer support and housing. The initial $45 million will continue to go where it does now, for schools, public safety and drug addiction treatment and services. By the time the Act takes effect, Oregon is expected to take in about $146 million in marijuana revenue.
Oregon ranks ahead of only Nevada in the US for the combo of mental illness and low access to care for mental health and addiction support. Drug addiction is a public health care crisis in our state and this measure goes a long way to address it!
Edit 10/18/2020: People are still going around and around about this in my socials, so I did a little more digging. Here's some good news: this decriminalization bill parallels the highly effective program in Portugal, which "reduced the social cost of drug use by 18 percent during its first 11 years.  Overdose deaths have fallen by 80 percent while the prevalence of new HIV/AIDS patients who used drugs fell from 52 percent to just 6 percent in the country."

Measure 9-134 Deschutes County: YES
Overturns ordinances adopted by our very anti-marijuana county commissioners and allows additional marijuana growers, processors, and processing sites to be established in the unincorporated county.
I'm voting yes because Deschutes County's ability to benefit from the cannabis tax has been hobbled by our county commissioners since Measure 91 passed in 2014. While they did allow some businesses to be established on unincorporated land, the current county commissioners have held a tight fist around this industry for too long. This is a great example of why your vote for county commissioners matters!
Measure 9-135 City of Bend: YES
Transportation bond for improving citywide traffic flow, east-west connections, congestion, and neighborhood safety.
Included in the budget are a lot of great improvements for bike and pedestrian travel - something I'm extremely keen on seeing more of in Bend. You can find a list of all of the proposed projects here.
I would be more hesitant about this if I didn't believe we are going to see a dramatic shift in the values of the City Council, thanks to this election. I trust the incoming councilors to create an oversight committee that will weigh heavily in favor of alternative transportation and use this money well.
The Bend Chamber is hosting a panel about the measure on October 13 at 12pm. The Environmental Center's Mike Riley, a co-chair of Go Bend 2020 (the PAC in support of the measure) recently recorded a presentation about the measure (it begins at the 12 minute mark).
Measure 9-139 Deschutes Public Library District: YES
Issues bonds to upgrade and expand existing libraries, and build the new Central Library in the northern part of Bend.
Edit/update: I'm a lot less torn about this measure now that I've engaged in discussion with people whose opinions I really respect (including an administrative employee of DPLS, who, granted, has a particular bias as well as a lot of inside perspective).
While I still want there to be smaller neighborhood library hubs, those won't solve one of the biggest issues the DPL faces right now: materials processing and administration.
According to the Facilities Capital Plan, a whopping 30% of the Downtown Bend  branch is currently used for staff purposes, and "One notable aspect of DPL's system is that it has no true 'main' library – that is, a centrally-located facility designed to support both destination public services and system-level library operations. While the Downtown Bend Library is the largest in the DPL system, it was not designed to function as a central library. As such, when DPL operations outgrew the Administration Building, Technical Services and courier functions moved into to the Downtown Bend Library – at the expense of space for public service."
Furthermore, it's important to remember that the Deschutes Public Library system is for all of Deschutes county. The location of the Central Library will make its services more accessible to all of Deschutes county residents outside of the Downtown core.
And the services! They've planned for big meeting rooms, a theatre-type space for talks and shows (almost every big show has to vie for the use of Bend High right now), a maker's lab, and other cool stuff. At the front of the library will be a big outdoor plaza type area where food trucks or farmers markets could be hosted.
You can read the whole library plan here.
As this plan moves forward, let's keep pushing for safe bike/walk routes to community gathering places like the Central Library. Vote for the city council members who advocate for a less car-centric town (they're listed below!).
---
(This is what I first wrote:) I'm so torn about this, because I honestly believe that an enormous Central Library isn't the best way to go. I think we would be far better off to build several smaller library annexes that serve their immediate neighborhoods, rather than one big central monstrosity that most people have to drive to. Libraries are community hubs - why not have them located within the community they serve?
That said, the DPL has already purchased the land on Robal Road (they paid cash and are debt free - kudos to the board and director for their amazing money management over the years; this is the first time the library district has requested money in the 22 years since its inception!). The new location is accessible by many neighborhoods and the new elementary school, and a lot of consideration has gone into the plan - including creating safe walk/bike access.
Plus, this measure includes doubling the size of the Redmond library and bringing much needed modernization and updates to the existing buildings that will make them even more suited to be the community hubs they are.
Measure 9-140 Redmond School District #2J: YES
This $27.5 million bond measure will address safety, repair, increased capacity, and modernization in Redmond's school district.
Approving this bond now won't increase the property tax rates over the 2020 rate (because they're refinancing existing bonds and lowering other debt payments). They'll also receive a $7.6 million state grant if Redmond voters approve it in this election cycle.
There will be an independent Bond Oversight Committee to make sure the money is used properly. This is a well written measure that will greatly improve the quality of education for Redmond school district's kids!
County Commissioner Position #2: Phil Chang
County Commissioner is an incredibly important role that voters need to take very seriously. County commissioners decide where a lot of our tax dollars get allocated (and even what gets taxed, and how much). They also create various ordinances and are currently making the decisions about how our county is handling the pandemic, quarantine, and reopening of businesses.
It is essential to have true public servants on county commission: people who value the wellbeing of the collective and make decisions based on All Of Us, not hyperpartisan talking points.
Democrats have an opportunity to break up the current Republican trifecta with this election.
Chang is running to replace Phil Henderson, the Republican incumbent who is trying to renew his current term. In March, Henderson shared a microphone (dangerous in Covid-time!) with  quarantine protestors at the Redmond rallyorganized by BJ Soper, cofounder of the Pacific Patriots Network - an extreme anti-government militia/domestic terrorist group. On July 4, he spent time at a local Trump rally and publicly referred to Covid-19 as "The China Virus."
As you may imagine, Chang keeps very different company!
To give you an idea of his values, Chang was Senator Jeff Merkley's field representative in Central Oregon (2014-2017) and member of the Central Oregon Intergovermental Council for 9 years. He helped create the Deschutes Collaborative Forest Project and has served on the Bend 2030 Vision Task Force.
Phil Chang has a consistent record of investing his time and talents in improving life in Deschutes County. He was recently interviewed by The Source Weekly and answered the questions with calm, pragmatic clarity. He values human lives and livelihoods and will fund initiatives accordingly. This is a candidate for whom I'm super excited to vote!
Whereas I began this election cycle just being excited about replacing Shane Nelson (whom I've hoped to vote out since 2016), as I've watched Scott Schaier, I'm really truly excited to be voting for him. He seems to be a really good man who exhibits humility and teachability - two of my most valued qualities in a public servant.
I've been in contact with Schaier since February. There was a chance the sheriff race would primary if there were 3 candidates, so I sent him some questions for my primary voting guide which he graciously answered. He contacted me later this summer (after the latest BLM uprisings began) and asked if he could review and revise his answers from the spring. It is clear that he has been paying attention to the political climate and educating himself around the issues.
Schaier supports the reallocation of funding that traditionally is used for law enforcement to be put it back into other social services such as mental health, addiction services, housing, and education. He says that this value has its roots in the night he killed Tyler Jacques in an officer involved shooting: "If Tyler had the ability to access services that truly supported him, would he have made the choices he did that night and would he and I have met under those circumstances [that led to the shooting]?"
Schaier also wants to see mental health support for the DSCO officers, mandatory implicit bias and cultural diversity training ("vetted and run by BIPOC instructors!"). He also commits to immediately stop the practice of sharing the daily inmate roster with the local ICE office, which Nelson's DSCO has been doing for years.
Schaier has the endorsement of the leadership of Embrace Bend and the Latino Community Association, former Bend Police Chief Jim Porter, many LEOs he's worked with, a couple DAs, school board members, teachers, and community members. Everyone who endorses him speaks about his collaborative spirit, integrity, and transparency - something I have experienced first hand as well.
You can watch Schaier's interview with The Source Weekly here. I'll add the link to the Sheriff candidate debate when it happens.
I have so much hope that we can create some reform in DSCO with the election of Scott Schaier!
---
Bend City Council
Y'all, I am so excited about the candidates we have for city council! We have the opportunity to create a diverse and highly qualified council to represent a much truer picture of Bend than ever before.
Each of the candidates below bring a similar ethos of inclusivity, concern for climate change, and adapting to the growth of our town with an eye toward affordable housing (including space for the currently unhoused), transportation, and economic recovery in the face of Covid-19.
You can watch a roundtable with all four of them here, hosted by Anthony Broadman in his #StateOfBend video series. The Bend Chamber hosted a City Council Candidate Forum with all of the city council candidates, which you can watch here.
City of Bend City Council, Position 1: Melanie Kebler
Kebler is a born and bred Bendite and an attorney. She wants to "establish a City staff-supported Human Rights Commission with the ability to address incidents of discrimination and to hold City government accountable when it comes to our goals around diversity, equity, and inclusion."
Kebler is running against Justin Livingston who made a failed primary run at Greg Walden's US Representative seat this spring.
You can watch Kebler's debate with Livingston here, and her interview with The Source Weekly here.
City of Bend City Council, Position 2: Anthony Broadman
Broadman is an indigenous rights attorney and former journalist. He is adamant about housing as a human right and will see that Bend makes good on its commitments for affordable housing.
Broadman is running against August Paul Johnson, an 18 year old constitutionalist. I applaud Johnson for his interest in politics! This one's gotta go to Broadman, though.
You can watch Broadman's interview with The Source Weekly here.
City of Bend City Council, Position 3: Megan Perkins
Perkins has her BA in political science and MA in political management. She is the co-founder and board president of Embrace Bend, a community group working to "dismantle White Supremacy through community support, learning opportunities, and organized activism." I've been a part of Embrace Bend since its inception; Perkins has managed the growing pains admirably and is commited to seeing its vision manifested in Bend. Running for city council is a logical next step for her.
Perkins is running against perennial candidate Ron Boozell (Rondo) and incumbent Chris Piper. You may remember the Chris Piper appointment debacle of 2019. Now he's trying to legitimize his seat by running for the vote. I was soured on him from the start and he hasn't done anything during his term to win me over. And while I am in awe of Rondo's tenacity at seeking an appointment, appreciate his heart for activism and really believe that some day he will find the right position at the right time, right now is Perkins' time.
You can watch Perkins' interview with The Source Weekly here.
City of Bend City Council, Position 4: Rita Schenkelberg
‌Schenkelberg is a mental health counselor with Northwest Youth Discovery. They stand to be the first queer person of color (and renter!) to serve on city council.
Schenkelberg's platform is all about accessibility and diversity. A diversity of housing to serve all types of needs; a diversity of transportation options and safe accessibility for cyclists and pedestrians; and diverse and accessible representation in all areas of local government and initiatives.
Schenkelberg is running against Michael R Hughes, a lawyer and marijuana farmer who wants to "Keep Bend Bend." I much prefer Schenkelberg's vision for Bend to evolve into a welcoming and inclusive community for all, not a stagnant version of yesteryear.
Schenkelberg's interview with The Source Weekly isn't available yet, but I'll add it when it posts. In the mean time, you can watch their FB series called CoffeeChatWithRita here.
---
City of La Pine City Council
You're picking 2 city council seats from 3 candidates. I'll tell you what info I could glean from any public information I could find, which wasn't a whole lot. If anyone from La Pine is reading this and wants to weigh in, I'd appreciate it!
D. Scott Henderson
He's at the top of my list only because he has almost zero online presence. His voters' pamphlet statement says he wants to produce more afforable housing (yay) and what I found in the La Pine council minutes wasn't objectionable.
Cathi R VanDamme
In 2018, she attended the Family Life "Weekend to Remember" marriage conference. It's a fundamentalist Christian group that espouses "traditional" (aka cis/het only) marriage. In 2012, she made clear her "Pro-Life" stance.
Alisha Powell
On her public FB profile, she has "Liked" some groups and politicians that make me think her politics do not align with mine: Trumpian Republicans and Conservative Originalist, and Trump's and Pence's pages. She's bottom of my list for this.
---
City of Redmond Mayor: Meh
George Endicott, incumbent since 2009, is going to win this one again. Despite there being two other candidates, there aren't any decent choices. I think the risk of trying to overturn Endicott is that you lose the experience and relationships that he's built over the last decade. Neither of the other two candidates have any prior experience. If one was an exciting fresh progressive voice, I'd be willing to take a chance on them. But from what I could tell from their answers in the City Club/LWV candidate forum, they're all basically cut from the same cloth. Might as well go with the OG here for now.
Redmond City Council
It looks like Redmond citizens get to choose 3 of the all candidates running. You can watch the City Club and League of Women Voters of Deschutes County Candidate Forum here.
Here are my picks:
For sure, for sure. He's endorsed/supported by people I trust. He seems the most educated and realistic about issues like reallocation of police funds, solving homelessness, and the lack of diversity in Redmond.
He seems to at least be making an effort toward inclusivity with his visit to the BLM/ALM (?) group of Redmond. He had some good statements in the Candidate Forum, too.
Camden King?
I'm really not sure; all I really have to go on is his voters' pamphlet statement and the process of elimination.
By process of elimination via the Candidate Forum:
Michael "There's no systemic racism in Redmond" Kusinska (and is that a Trump hat in the background of his Candidate Forum video?) is out.
Shannon "The police deserve to be supported and not scrutinized" Wedding is out (she's also proud of her Redmond Patriots* endorsement).
Ed "Defunding the police doesn't even make any sense; they probably need more funding!" Fitch is out (to be fair, he supports a city audit of the police department to ensure transparency, though he's sure that Redmond PD is without blemish).
Ronald "I'm a POC and Redmond PD have never bothered me" Osmundson (who is also endorsed by the Redmond Patriots*) is out.
David Wegener, former Redmond Public Works employee, doesn't have any public info out. If he gets an interview with the Bulletin, I'll update!
Camden King didn't make it to the Candidate Forum, but I skimmed through some of the old Redmond City Council meetings and his interview with The Bend Bulletin and didn't find anything objectionable. Please let me know if I'm making a mistake!
*The Redmond Patriots don't really have an internet presence, but I did find enough information to confirm my suspicion that they're the MAGA type of "patriots." According to this blurb, the Redmond Patriots follow the Tea Party legacy, and "Redmond Patriot's mission has always been to 'Promote American Exceptionalism through Community Education.'" Yeah, no thanks; let's not vote for anyone endorsed by this group.
---
City of Sisters City Council
I don't know if anyone in Sisters reads this, but if you do, you're voting to fill 3 positions. Here are my choices:
Fisher has her degree in Chemical Engineering and founded the Sisters Fight for Social Justice group this June. She wants to amplify the voices of marginalized groups in Sisters via her platform as city councilor. Watch her interview with The Bend Bulletin here.
Susan G. Cobb
Cobb is a retired systems analyst and project manager, and new to civil servitude. She wants to advocate for sustainable growth, environmental awareness and wildfire prevention, and to make sure that the Sisters' quality of life is available to all residents. Watch her interview with The Bend Bulletin here.
Andrea L. Blum
Blum has been active in the League of Women Voters for over 20 years and is the only incumbent looking for reelection. Her platform is addressing the evergreen concerns of Sisters: highway congestion (if you've ever tried to get over the pass in the summer, you understand this!) and affordable housing. You can watch her interview with The Bend Bulletin here.
---
Thank you for being an informed voter!
Again: Please feel free to share this Voting Guide with your friends and on social media, as widely as you can. If you choose to quote any part of it, you need to credit my work and link back to the original.
It is our privilege and responsibility as Oregonians and US citizens to vote in every election. When you demonstrate your engagement, you inspire others to participate!
I do this work for you and nothing makes me happier than to know it helped you fill out your ballot thoughtfully and intentionally. Thank you so much for reading and voting!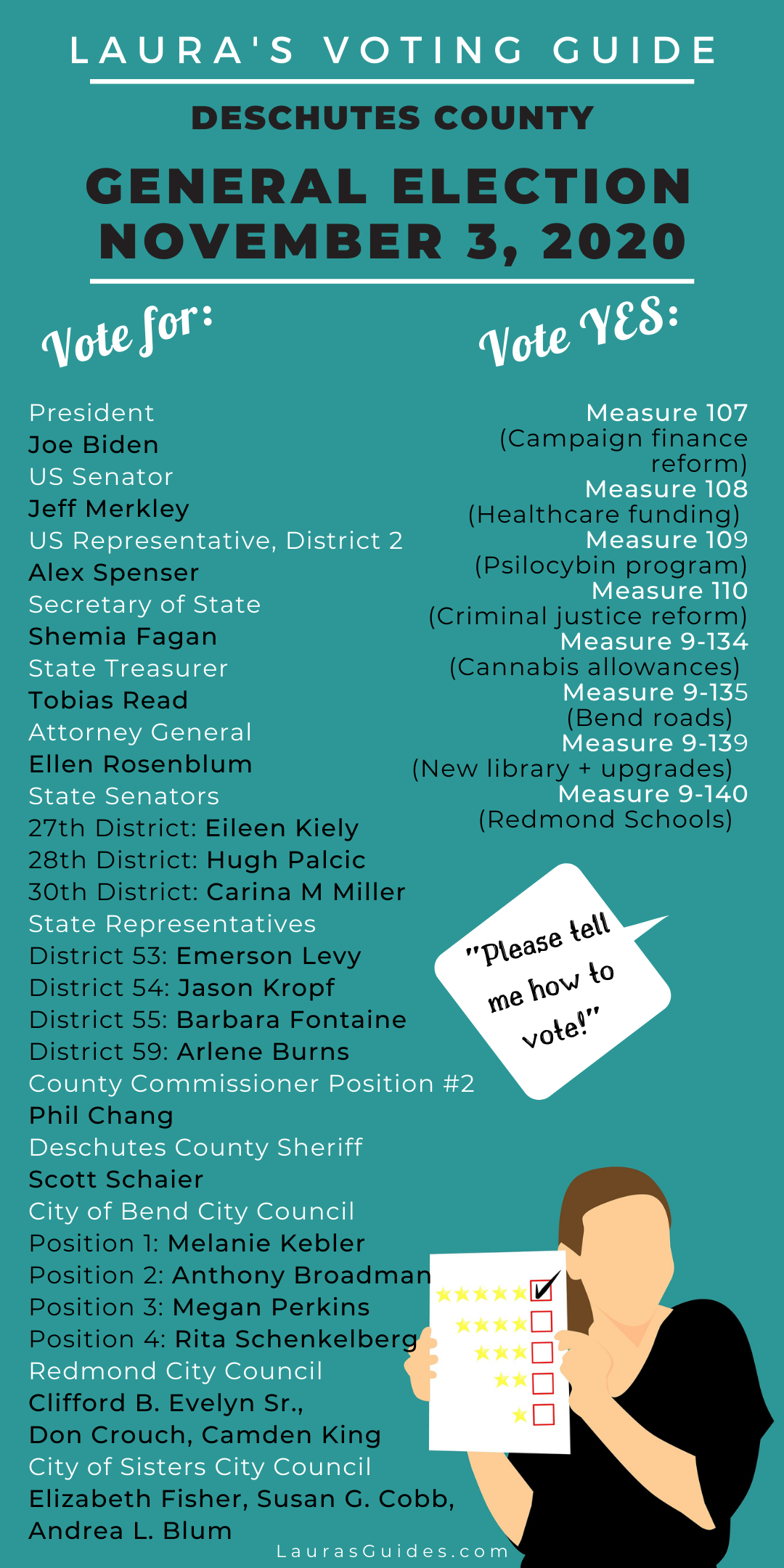 Join the newsletter to receive the latest updates in your inbox.