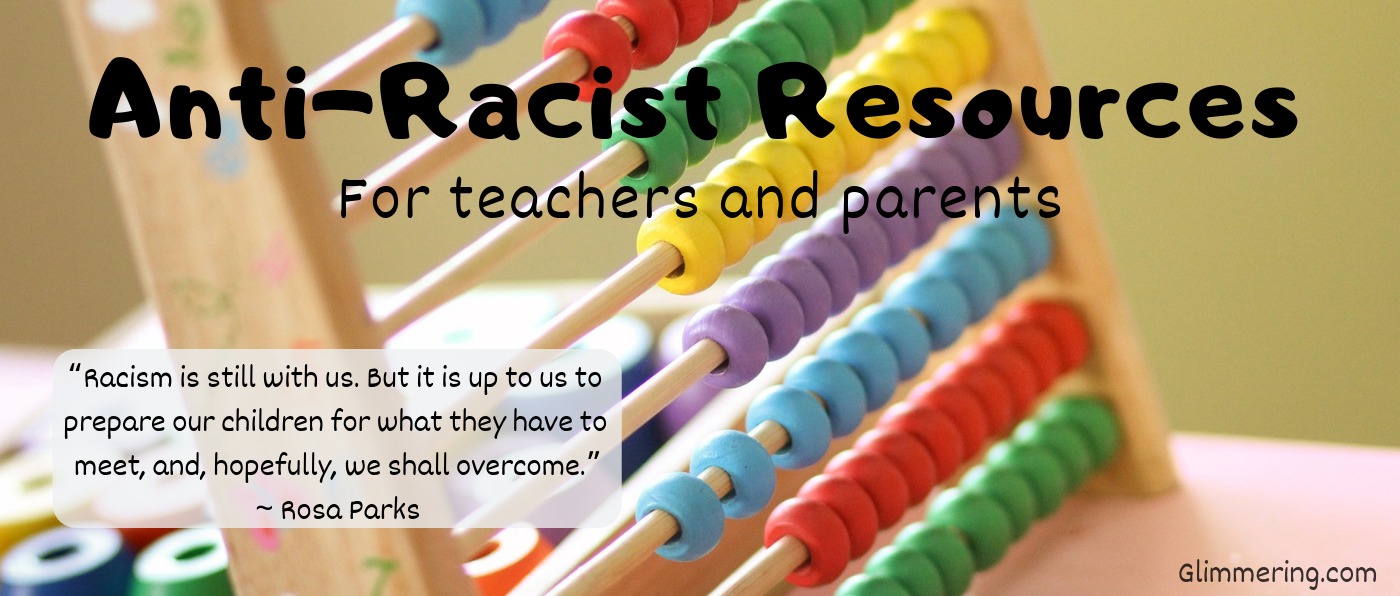 Anti-racist resources for teachers (and parents)
A list of articles, websites, books, media, and groups that help teachers with anti-racism.
After my conversation with my 3rd grader about kids coloring Black history heroes white, I received solid responses from her Montessori teacher and principal. The teacher did an excellent job following up with the students, being specific about race, color, and coloring historical characters accurately. And the principal asked me for the list of resources I'd offered. I'm going to share them here so you can follow along!
I believe the work of raising anti-racists is ultimately the responsibility of parents.
Unfortunately, most nice white parents aren't comfortable talking about race, and their privilege allows it to be a non-issue in the home. So, the work is often left to teachers. Teachers have an extraordinarily thankless task in attempting to broach this subject in the classroom. Kids will inevitably garble the messages back home, and if they don't have parents who are willing to have uncomfortable conversations, the school will most likely face the wrath of their white fragility. I commend any teacher and any school willing to take on this work. It is important - essential - and, sadly, you're likely going to get a lot of shit for doing it.
Before you begin, read this op-ed: White Teachers Need to Check Their Racism Before Teaching It, by Akiea Gross, the founder of Equitable Schools Inc. and Woke Kindergarten and the visionary behind the initiative, #BlackTeachersMatter. Use it to orient yourself before you begin, and to keep you on track while you're in the thick of this work.
The work doesn't stop
Don't get bogged down by the enormity of the subject and vastness of resources available. You're not ever going to arrive, so just focus on each step of the journey. Determine that you will commit to a constant, steady improvement of your thinking and being, and take small bites where you can. As you evolve, you'll change the environment around you. The ripple effects of your actions and conversations matter more than you think!
This list is not meant to be exhaustive
This is a curated list. That means, I put together some really good starting points and not-to-miss resources, but didn't comb the internet for every single anti-racism education source possible. That's what google is for! I want this list to be accessible (i.e. not overwhelming). And, I tried to keep it specifically pointed at anti-racism, rather than general anti-bias. Please remember your intersectionality: students of color also suffer extra from discrimination about their gender expression, sexuality, disability, neurodivergence, economic status, etc.
Why is anti-racist training important?
Pretending to be post-racist (aka "colorblind") hasn't worked, and never will. We can't hope for an equitable (let alone anti-racist) society unless we address the issue head on. This article from Teaching for Change sums it up perfectly:
"Children will "naturally" grow up to be non-racist adults only when they live in a non-racist society. Until then, adults must guide children's anti-racist development. This will include the fostering of:

accurate knowledge and pride about one's racial/cultural identity;
accurate knowledge and appreciation of other racial groups; and
an understanding of how racism works and how to combat it."
This article from USC's Rossier School of Education is a good overview of why talking about race in the classroom matters, how to do it, and what to expect.
Articles to get you started
Here are a couple easy reads on how to guide children's anti-racist development:
These are good for orienting yourself, or giving interested but tentative parties a broad strokes overview.
Research-Based Advice on Teaching Children Not to Be Racist, published in The Atlantic - lots of embedded research and resources linked in this one.
Five Ways to Reduce Racial Bias in Your Children, from UC Berkeley's Greater Good Magazine.
Raising Race Conscious Children is an excellent resource. This post is a compendium of 100 Race Conscious Things You Can Say to Your Child to Advance Racial Justice, linking to their 100 blog posts that expand on each statement. Their Strategies page is a handy summary of much the same thing.
Here's a Montessori-specific article on dismantling oppression in the classroom
Adding Equity to Montessori Training, by Teresa Ripple:
"As Montessori practitioners, we can tell ourselves that we are not part of the problem, but part of the solution. That is partially true. Montessori does promote a global cultural view and recognize the unique gifts of the individual. But critically examining Montessori practices in a way that most were not trained to do is crucial—to consider whether guides are truly including anti-bias, anti-racist approaches in their communities. The children guides are interacting with now will go out into the greater world community. Will these children be perpetuating stereotypes? Will they have examined their own implicit bias? Will they believe in the American myth of meritocracy? The late Fred Rogers remarked: "We live in a world where we need to share responsibility. It's easy to say 'it's not my child, not my community, not my world, not my problem.' Then there are those who see the need and respond. I consider those people my heroes."
Resources for preK-5th classrooms
The RACE Project's A Family Guide to Talking About Race - "serves to advise parents or caregivers on how to talk to their children about race and provides a menu of activities that parents or caregivers can do together with their child. The Guide focuses on young children, ages 3-10 years of age (Pre-Kindergarten – Grade 5)." This has excellent scripts and activities for lower grade teachers.
The Zinn Education Project - The Zinn Education Project promotes and supports the teaching of people's history in middle and high school classrooms across the country. Based on the lens of history highlighted in Howard Zinn's best-selling book A People's History of the United States, the website offers free, downloadable lessons and articles organized by theme, time period, and reading level. You can sort by subject and grade level in this robust collection of resources.
The Wonderment - The Wonderment is a place where kids around the world are collaborating with each other and turning their creativity into a currency that changes the world. This looks like a great resource for expanding kids' worldview and to interact with kids from other cultures and countries. However, it's only going to help anti-racist work if you are abiding by the guidelines in the other sources on this page; exposure to differences is not enough - you have to talk kids through the experience in order to dismantle their prejudices.
Andy Lulka is one of the administrators of the Montessori Teachers Facebook group of 5000+ dedicated professional Montessorians. In collaboration with the teachers in this group and the administrators of the Montessori for Social Justice group, she is in the process of compiling a list of resources for talking to children about race and racism. This is a living document, available on Google Docs, and will be updated with new quality resources over time. There's some overlap with what she's compiled and the resources in this list; hers is much more exhaustive - highly recommended!
Resources for 6-12th classrooms
RACE: A Teacher's Guide for Middle School and RACE: A Teacher's Guide for High School - The RACE Project is the first national collaborative effort to present an integrated view of race and human variation through biological, cultural and historical perspectives. The public education program explains how human biological variation differs from race, when and why the idea of race was invented, and how race and racism affect everyday life. The program has three primary messages. (1) Race is a recent human invention. (2) The idea of race is about culture, not biology. (3) Race and racism are embedded in our institutions and everyday life.
The Zinn Education Project - The Zinn Education Project promotes and supports the teaching of people's history in middle and high school classrooms across the country. Based on the lens of history highlighted in Howard Zinn's best-selling book A People's History of the United States, the website offers free, downloadable lessons and articles organized by theme, time period, and reading level. You can sort by subject and grade level in this robust collection of resources.
Books
Anti-bias Education for Young Children and Ourselves, by Louise Derman-Sparks and Julie Olsen Edwards. This book offers practical guidance on confronting and eliminating barriers of prejudice, misinformation, and bias and provides tips for helping staff and children respect each other, themselves, and all people.
Derman-Sparks has also created an anti-bias curriculum companion text. This article by the two authors will give you a good overview of what's in the book.
White Fragility: Why It's So Hard for White People to Talk About Racism, by Robin DiAngelo. In this in-depth exploration, DiAngelo examines how white fragility develops, how it protects racial inequality, and what we can do to engage more constructively. (This will help you understand the pushback you may receive.)
How Real is Race?: A Sourcebook on Race, Culture, and Biology, Carol C. Mukhopadhyay, Rosemary Henze, Yolanda T. Moses. How real is race? What is biological fact, what is fiction, and where does culture enter? What do we mean by a "colorblind" or "postracial" society, or when we say that race is a "social construction"? If race is an invention, can we eliminate it? This book, now in its second edition, employs an activity-oriented approach to address these questions and engage readers in unraveling—and rethinking—the contradictory messages we so often hear about race.
Podcasts
The Teaching While White podcast explores white fragility, the myth of the model minority, reckoning with whiteness, and other topics.
Scene on Radio's series called Seeing White is brilliant and eye-opening. Worth several listens.
This episode of So You Want to Change the World podcast, called The Pedagogy of Equity and Justice.
The Facing Ourselves Podcast - A podcast about racial justice, anti-racism, and racial reconciliation. This podcast provides opportunities for white people to develop greater understanding and responsibility regarding race and racism. We bring you conversations and resources with a wide-range of experts and leaders. Hosted by psychologists Drs. Brandy Liebscher and Danielle Beck.
The Heinemann Podcast episode called Dismantling Racism in Education.
Trusted Professionals
I think that self-education is a good start, but can only take white people so far in this field. We're swimming in unconscious bias and cannot presume to eradicate white supremacy from our classrooms and curricula without some outside accountability. Here are some groups who can help you.
Montessori-specific groups
The Educators of Color Consultant Directory from the Anti-Bias Montessori website. (Look at the list of conferences, workshops, and events, too.)
The Montessori for Social Justice Conference _will be held in Portland, Oregon on June 20-23, 2019. This conference will include workshops, presentations, panel discussions, forums, affinity group work, and facilitated open-sessions around the theme: "Decolonizing Human Potential." _
MSJ also has a facebook group that offers_ resources and discussion about using the Montessori method for dismantling racism and oppression in every classroom. _
Other groups
Teaching Tolerance, a project of the Southern Poverty Law Center, offers many professional development resources. Educators can also subscribe to their magazine for free.
The Anti-Racism Educational Consultants Network has a list of "experts in helping educators examine issues of race and racism in schools, childcare settings, and teacher education programs as they consider new possibilities for practice and policy."
AMAZE - "AMAZE programs foster the knowledge, values, and skills that the next generation needs in order to support and respect each other across differences of race, class, culture, gender, sexual orientation, age, religion/faith, and physical ability. We do this by providing curricula, trainings, and support that enable teachers and parents/guardians to start and sustain courageous conversations in schools, faith communities, after-school programs, and anywhere that children are together."
Facing History - "Our mission is to engage students of diverse backgrounds in an examination of racism, prejudice, and antisemitism in order to promote the development of a more humane and informed citizenry...We work with teachers, students, and communities everywhere, through online professional development, international events, and our free library of classroom resources."
The Center for Racial Justice in Education offers trainings, consultation and in-depth partnerships to educators, schools and educational organizations who want to advance racial justice. Their resource page is excellent, too.
Raising Race Conscious Children offers workshops, both in-person and virtual, and individual consultations.
Join the newsletter to receive the latest updates in your inbox.