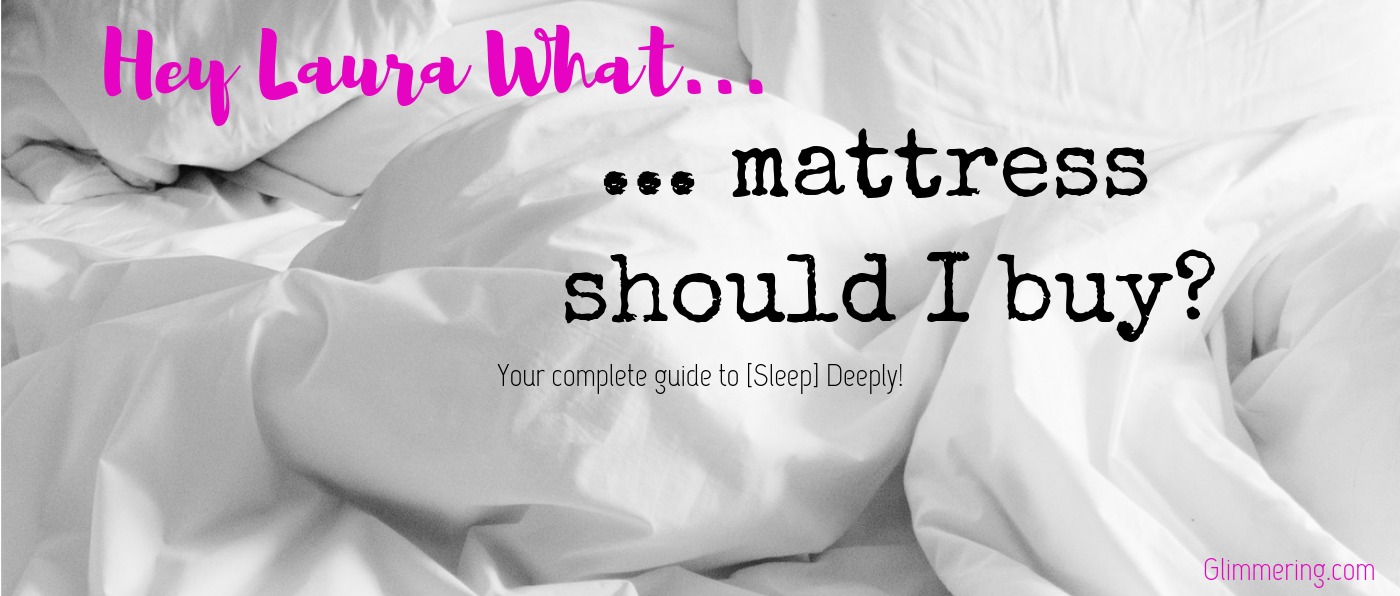 Hey Laura! What Mattress Should I Buy?
Your complete guide to sleeping like the Camachos!
"Sore Back" asks:
"Hey Laura, my old mattress is making it hard to get up in the morning - for all the wrong reasons. I need to get a new mattress and am thinking about trying one of the mail-order mattresses, but I'm overwhelmed by all the choices! Can you help me make the decision?
---
Leslie and I recently converted our bedroom setup from the ground up. Since we were upgrading from a queen to king mattress, we had to get all new bedding, too. We highly recommend each element listed below; we are incredibly happy with our new sleeping arrangement!
Mattress
I'm going to start off by saying that I am a die-hard natural latex mattress fan, so my mattress research only extended as far as the companies who sell 100% natural latex.
If you're not sure you want a latex mattress (I'm going to try to convince you, though!), let me point you to the most comprehensive sleep products (from sleep meds to mattresses) review site ever: Tuck.com. Their side by side mattress comparisons have categories like "Best for Sex," and "Best for Stomach Sleepers," etc. Super handy!
Why Latex?
Glad you asked! Natural latex is basically everything people like about memory foam, but without the toxic chemicals, overheating, and troughing effect. Latex is also dust mite, mildew, and mold resistant. It also doesn't have to be soaked in flame retardents in order to pass FDA inspection. If you need a truly hypoallergenic bed, natural organic latex is the way to go. I think it is the most comfortable type of mattress on the market, and all the non-toxic benefits make it a no-brainer of a choice for me.
Okay, okay, but which mattress did you get?
I'll tell you! But first, I'll have you know that if budget hadn't been a factor, I probably would have gone with the Plush Bed Botanical Bliss Organic Latex Mattress. Its main selling point for me was that the king and cal king sizes are split inside the cover, so you can swap around the layers and fully customize each side of the mattress. This also means you can replace elements of the mattress if you experience any sinkage over time. The other size mattresses also have the customizable layers, but for the entire mattress, not both sides. Latex is heavy, so I don't know how easy it would be to swap layers around, but it sounded like a really cool option to have.
We ended up choosing the Sleep On Latex Pure Green mattress in medium firmness. It's cheaper than the Plush Bed, though slightly less organic (but still 100% natural latex), and gets amazing reviews. We have similar enough firmness preferences that the customizable mattress didn't seem worth the extra $600 or so.
This mattress has a lovely cushy top layer that almost feels jello-like to me (it must be the softer latex layer and 2 inches of wool batting on top). But underneath is a firm, comfortingly stable base, so you don't sink down forever. The motion transfer is a little higher than our old latex mattress (which is one solid piece of Dunlop latex that feels hard as a rock to me now!), but way less than an innerspring mattress. It was comfortable from night one. Within a couple nights, I realized I was waking up with far fewer aches and pains than usual!
Bed frame
Latex mattresses need a platform, not box springs, so most traditional beds won't accommodate a latex mattress. Our 1922 bungalow bedroom is small. It can barely fit a king sized bed! I didn't want to overwhelm the space with a big bed frame, so I chose this simple unfinished tulip poplar wood platform. It is almost completely silent, super sturdy, and doesn't even slide around on our wood floor. It was easy to assemble, too!
Sheets & Blankets
I started preparing for the king sized bed by purchasing this 100% wool filled duvet insert as soon as the fall chill set in. (Queen size here.)
I came from a goose down duvet family, and have never strayed until now. But I got so tired of the shifting feathers, and the inability to flop down on the bed without crushing them (and constantly yelling at my kids for doing just that).
I started looking at synthetic fill comforters, and just felt meh about sleeping under a bunch of chemicals. Then I stumbled upon this incredible deal for a wool filled duvet insert - it's actually cheaper than the synthetic down comforters I was looking at!
This is the most wonderful thing I've ever slept under. It's SO warm, yet breathable - I don't get sweaty. And it is heavy in a way that down never can be. I think that because it's filled from an earth-dweller rather than a sky-flyer, it offers a much more grounded sleep.
Some of the reviews made me leery, but ours has been perfect. It also looks different than the picture - the squares are smaller and there is another swirly pattern of stitching over them to keep the down from shifting even more.
These German flannel sheets are the quintessential flannel sheets. I have exactly two sets of sheets for our bed - these and a set of summer weight cotton ones from Target. I got the flannels 3 years ago and we probably sleep on them at least 8 months out of the year. They have held up wonderfully. (Our king sized bed is now graced with a set of flannel sheets from Costco, which have been remarkably good quality; I just can't find a link for them!)
For the winter, I've put a sherpa throw over the bed. I never need it because I sleep warm, but Leslie appreciates it when the overnight temps in our bedroom drop to the low 50s!
...
There you have it - a template for recreating the Camacho bedroom. That's...not creepy at all! ;)
---
Affiliate Disclosure: I may earn a small commission (at no cost to you) if you make a purchase after clicking a referral link. That said, all content and opinions on this site are my own and are NOT affected by these payments. I only link what I love.
Join the newsletter to receive the latest updates in your inbox.