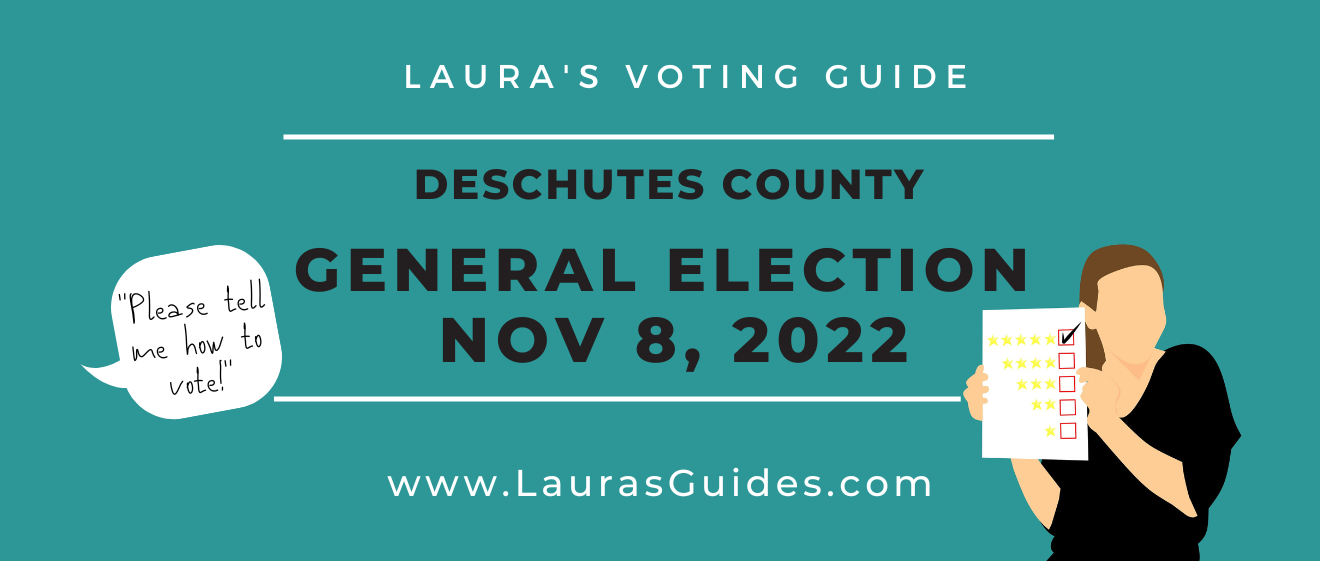 2022 General Election Voting Guide: Deschutes County - Nov 8, 2022
Who to vote for in the Nov. 8 2022 General Election in Oregon, Deschutes County, Bend, La Pine, Redmond, and Sisters.
Welcome, voter!
It is our privilege and responsibility as Oregonians and US citizens to vote all the way down the ballot in every election. When you demonstrate your engagement, you inspire others to participate!
I do this work for you and nothing makes me happier than to know it helped you fill out your ballot thoughtfully and intentionally. Thank you so much for reading and voting! ‌
‌             ‌
Disclaimer
My vote recommendations are based on my own research and do not represent any entity's opinions but my own. I vote progressive/liberal/democrat. When other factors are equal, I favor the candidate that is the least cis/hetero/male/white/old; who is aware of, and working on, their own implicit biases; and who is committed to improving equity, accessibility, and inclusivity within their jurisdiction. (Why this isn't racist.)
I will absolutely never vote for a Republican again. The GOP has given itself over to violence and lies and anyone who is still willing to call themselves a Republican, no matter now they frame themselves as "different," is complicit in the destruction of our democracy. The Republican party is corrupt to its very core and there will be no rehabilitation from within its ranks.
I'm sorry for those people of integrity whose identity has been Republican, but it is past time to renounce your party.
True patriots and conservatives with any integrity must not align themselves with the hateful, anti-democratic rhetoric of the Right. If this statement bothers you, close the tab and move along; I don't want to hear from you about it.
Anywho! I've included summaries of why I'm voting the way I am, and links to more information on candidates, when available, in case you want to be an informed voter. I'm open only to discussion based on actual facts, that respects the work I've done here already. If you disagree with me philosophically to begin with, my guess is that it's going to be a waste of both our time to discuss. But if you think I've erred within my own set of values, I would appreciate your input! (I'm not going to change my mind on 114, though.)
Pay me for my work
What started out as a favor to friends (to keep them from randomly filling in bubbles on their ballots!) has turned into a significant piece of my community service. My voting guides will always be free to use and share, but they've never been free to make. The guide I've written for you here represents at least 35 billable hours of my time, researching, info-gathering, and writing. If this guide helped you fill out your ballot and you can afford to, you can pay me for my work: PayPal.me/laurasguides or Venmo: @laurajoycamacho.
Copyright
Please feel free to share this Voting Guide with your friends and on social media, as widely as you can. If you choose to quote any part of it publicly, you must credit my work and link back to the original. ‌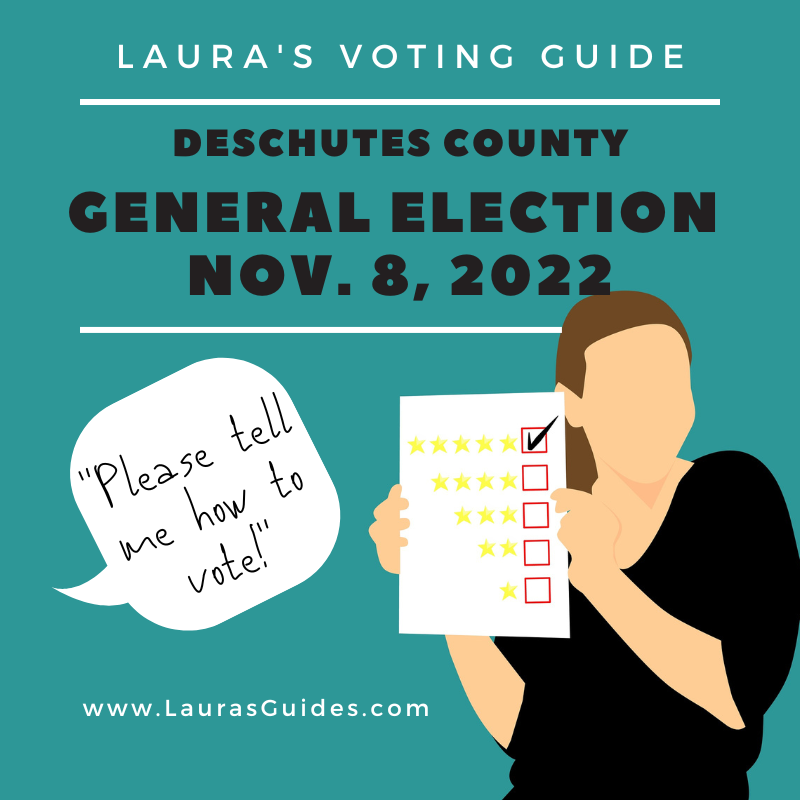 Now Vote!
I'm using the Voter's Pamphlet that you can find here. Your ballot will be mailed to you on October 19. If you think it has gotten lost in the mail, or it is damaged in any way, contact your county elections office and they'll help you out.
YOUR VOTE IS YOURS. If you are unhoused, you can still vote. If you are a student here, you can still vote. If you need disability services, they are available. If you feel threatened or manipulated to vote a particular way by someone, or if you feel unsafe in any way right now, there are so many people available to help you.
Keep in mind that not everything I cover here will be on your ballot; your ballot only allows you to vote for the measures and candidates in your particular area of Deschutes county, plus the Oregon-wide candidates and measures.
Your ballot must be postmarked on Election Day – November 8 – and received within 7 days, to be counted (but please fill it out and mail it ASAP!). Or you can drop your ballot at any of the secure ballot drop boxes throughout our county, beginning on October 21.
---
Oh, you really just want me to tell you how to vote? Sure thing!
US Senator: Ron Wyden
US Representative, 2nd District - Joe Yetter
US Representative, 5th District - Jamie McLeod-Skinner
Oregon Governor - Tina Kotek
State Representative, 53rd District: Emerson Levy
State Representative, 54th District: Jason Kropf
State Representative, 55th District: Brian Lepore
State Representative, 59th District: Lawrence Jones
State Representative, 60th District: No Vote
Commissioner of the Bureau of Labor and Industries: Christina Stephenson
Judge of the Court of Appeals, Position 10: Kristina Hellman
Measure 111: YES!
Measure 9-147: YES
Measure 9-148: YES
Measure 9-149: NO
Measure 9-150: YES
Measure 9-151: YES
Measure 9-152: NO
Measure 9-153: NO
Measure 9-154: NO
Measure 9-155: YES
County Commissioner Position #1: Oliver Tatom
County Commissioner Position #3: Morgan Schmidt
Deschutes County Clerk: Steve Dennison
Deschutes County Treasurer: Trevor Lewis
City of Bend City Council, Position 4: Barb Campbell
City of Bend City Council, Position 5: Ariel Méndez
City of Bend City Council, Position 6: Mike Riley
City of Bend Mayor, Position 7: Melanie Kebler
La Pine Mayor and City Council: ¯\_(ツ)_/¯
Redmond Mayor: Ed Fitch
Redmond City Council: John Nielson, Kathryn Osborne, and Bill Trumble
City of Sisters City Council: Susan Cobb
Deschutes Soil and Water Conservation District At Large, Position 2: Brian Lepore
Deschutes Soil and Water Conservation Board member, Zone 4: Write in - Megan Kellner-Rode
Measure 112 - Removes option of enslavement/forced labor entirely from Oregon Constitution: YES
Measure 113 - Disqualifies walkout candidates from holding office in next term: YES
Measure 114 - "Gun Control" Stuff: NO (Hear me out!)
---
What's that? You want long-winded dissertations on every voting decision I'm making? Let's go. I have 9,000 words for ya!
Wyden has a good track record of working for progressive values like campaign finance reform, clean energy initiatives, access to healthcare and reducing pharmaceutical costs, and abortion rights. He says his focuses for his next term will include voting protection, mental health, affordable housing, and protection of our environment and natural resources. I hope he will have a viable successor one of these days, but for now, he's our guy.
Wyden's only real contender is Jo Rae Perkins, the GOP/Constitution (i.e. Christian Nationalist) candidate, whose slogan is "For Such a Time as This." If you weren't raised on the Bible, that's a reference to the story of Esther, and evangelicals like to throw it around when they believe they're doing something god-ordained. Perkins says she believes in protecting the constitutional rights of every (yeah, right) citizen, AND, paradoxically, that people should be forced to carry every pregnancy to term or its natural end, even if that includes the carrier's natural end. But don't you dare tell her what she has to do with her body when it comes to wearing a mask. 🙄
Perkins is a high pedigree disciple of QANON (she even took the pledge) and such a radical that even gubernatorial candidate Christine Drazan won't admit publicly if she supports her (Drazan won't deny her, either though, which is telling). Perkins has so far failed at many attempted runs for office: Senate in 2014, U.S. House in 2018 and 2016, and U.S. Senate in Oregon in 2020. We can't be cavalier about this election. In 2020, she won her primary with almost 50% of the GOP vote, and then got 39.3% of the vote vs. Merkely's 56.9%. This had better not be her year!
Other candidates are Chris Henry (Progressive party) who has some whimsical ideas like turning all of our streets into parks and farms (Um...all of them?!). And Dan Pulju (Pacific Green) whose only good idea is ranked choice voting. It's possible that if these guys take a combined 20% of the vote, we are going to be stuck with a QANON wacko in Washington. Talk to your libertarian and independent friends; don't let them do a Bernie on us, please.
US Representative, 2nd District - Joe Yetter
God, I love this guy. Take a few minutes to go read his campaign travel journal. It's just the absolute best. Here's a gem:
Yetter is a Vietnam & Gulf War veteran, a physician, a teacher, a children's book author, and the progressive grandpa you wish you had. He's a genuine person with a servant's heart, a scientist's mind, and the commitment to do well by the residents of ORD2.
Yetter's opponent is Cliff Bentz, who must be so assured of his victory that he hasn't even bothered to update his website since 2020. Unless that's an intentional dog whistle to his constituents who believe Trump is still president? Hard to tell; but Bentz did, after all, refuse to certify Pennsylvania's 2020 electoral votes.
Y'all know I've been a Jamie Superfan since 2018. This race is a tight one, but I am hopeful we can pull it off!
McLeod-Skinner is a highly qualified (she has a bachelor's degree in Civil Engineering, a Master's in Regional Planning, and a law degree with a focus on Natural Resources Law) political wonk with a heart for working class Oregonians. She's put in the work – traveling tirelessly throughout her district to meet with her constituents. And, because she refuses to take corporate special interest money for her campaign, she's being funded by the people whom she meets. Her values are progressive to the core, and she will be a wonderful representative for us in DC.
Her opponent, Lorie Chavez-DeRemer, is almost the exact opposite. Politically, she's a hardline GOP – spreading all the same old lies and scaremongering ("CRT! Illegal Aliens! Open Borders! Murdering Babies!"), and avoiding offering any serious policy suggestions. Last week, Chavez-DeRemer released a dumb ad and accused Wisconsin-born and Oregon-raised McLeod-Skinner of "an out of touch San Francisco politician pretending to be an Oregonian." I'd just like to point out that "San Francisco" when directed at a lesbian is a very typical 90's-era California slur, which Chavez-DeRember definitely knows, because she's from Hanford.
Also, Chavez-DeRemer is a multimillionaire who has some very questionable PPP loan forgiveness discovery happening right now. Chavez-DeRemer railed against government handouts, but handily pocketed $1.3 million in forgivable PPP loans in 2020-2021, while still making between $1-5 million in her family business and building a $2.1 million dollar second home in Arizona. In contrast, McLeod-Skinner's income was approximately $60,000 in 2021, she has only one house – in Terrebonne – and she and her wife have quite a few student loans they're paying off. If you want someone who actually understands the average family's struggles in 21st century Oregon, it's McLeod-Skinner, not the lady who has gobs of money and lives part time in Arizona.
You can watch the candidates' debate on KTVZ here, here, and here.
Our gubernatorial race is where everything for Oregon hangs in the balance. Sending either of the non-Democrat candidates to Salem could seriously hamstring our Democratic majority in the state legislature.
Furthermore, losing our Democratic governor could further walk our nation into a Convention of States, wherein the GOP could dismantle the federal government (already 19 out of the 34 necessary have signed a resolution for a Convention). They already LARPed a Convention of States in 2016, and that simulation repealed the 16th amendment (federal taxation) and gave the states the power to repeal any federal law, regulation or executive order.
I hope you can infer what kind of chaos that would create and how dangerous it is.
Kotek is running against Betsy Johnson and Christine Drazan.
(Well, Donice Noelle Smith is running as a Constitution party candidate, but I'll be surprised if she garners even 1% of the vote. Have a laugh/sob at this, though. Her mission statement includes all the tired MAGA tropes, and this gem: "I will work diligently to undo the plunder that has befallen you all for the past 35 years of Democrat Socialist policies." God, I wish we'd had 35 years of actual Democratic Socialist policies in Oregon; imagine how advanced we would be!)
Anyway, on to the serious contenders.
Johnson is a multi-millionaire forestry heiress who used to be the Democrat that voted Republican on guns and climate change (and uniformly against working families), and is now running as an Independent/unaffiliated/spoiler candidate. She claims she's not beholden to any ideology, and she may be truthful in that; her voting record shows that she just consistently favors the lobbyist groups that give her the most money. Her gubernatorial campaign was injected with millions ($3.75 million so far) from Phil Knight, who wants Kotek to lose at any cost. Fuck billionaires thinking they are entitled to steering our politicians with their money, and fuck the sellout politicians who serve them.
It's unlikely Johnson will win, but she can certainly split the vote with Kotek, leading to a Drazan win. Please, please do not cast an aspirational vote for Johnson. Aspirational votes are for our closed primaries! I'm really sorry if you don't like Kotek, but no, we don't "deserve" a Drazan rule simply because Kotek won the primary. Drazan is an extremist-adjacent candidate who, if elected, would empower a lot of dangerous people to think they have more power and legitimacy than they do. Don't help them. Don't vote for Drazan via Johnson.
Drazan chose to launch her campaign at Smith Rock Ranch, where far-right extremist militia leader BJ Soper gave a violence-laced call to arms. She's taking money from Tea Party Patriot and insurrectionist-funder David Gore (of Gore-tex fabric fame). Drazan's platform has been scrubbed of her most radical stances, to the point that she's not really saying anything at all. Her "road map for Oregon's future" is mostly aspirational platitudes or referring to something the Democrats have been working toward for years, against Republican obstructionism. But she keeps company with some of the worst actors in our state, and electing her will put us all in jeopardy.
You can watch the candidate debate put on by OSU-Cascades, KTVZ and the City Club of Central Oregon here and here.
State Representative, 53rd District: Emerson Levy
Levy is an attorney with experience as a public defender, workers' comp hearings, and real estate law. She's the mother of a child with special health needs and has empathy for working parents struggling to keep their families healthy, housed, and educated. Levy's priorities are those that affect all Central Oregonians and she will work to improve life and livelihoods for all of us, no matter what our beliefs or values. She has concrete plans, not empty ideologies or accusations. She's going to get to work and get things done.
Levy's MAGA opponent, Michael Sipe, had a cadre of supporters heckling Levy at their first candidate forum earlier this fall. An anti-vaxxer, he compares Covid-19 vaccination to heroin addiction. He wrote dangerous, violence-laced Christian nationalist messaging the evening before the January 6 insurrection. He proudly voted for Trump and states "I turn to prayer and the Bible as my primary resource for wisdom; then seek input from other Godly, wise and compassionate men and women; and finally I apply logic, reason and common sense."
That Sipe is loyal to his god over his country and community makes him unqualified to adequately represent our diverse district's beliefs and values.
Watch their Source Weekly candidate interview here.
State Representative, 54th District: Jason Kropf
Kropf is our current representative and he's done a great job so far! In 2021, he helped bring in $4.5M for a navigation center and a year-round shelter in Bend; $13.8M to construct a Student Success Center at OSU-Cascades; and expanded our circuit court with two new much-needed Deschutes County judges. Kropf is a dedicated public servant whom we're lucky to have representing us. Let's work together to keep him in office.
Opposing Kropf is Judy Trego. She's been a fixture in Central Oregon politics for awhile, as City Councilor in Sisters and Greg Walden's Constituent Services Manager.
Trego recently received a $5150 (surely this was intentional) donation from Dale Stockamp, who is one of the financiers of that 710 acre mega-lot housing community that Patti Adair and Tony DeBone are trying to shove through.
Other notable campaign contributors are Seneca Sawmill former co-owner Kathleen Jones-McCann – who has also contributed $100,000 to Betsy Johnson and $50,000 to Christine Drazan, and the Deschutes Citizens for Law & Order (who say that, "Weak Republicans are just closet liberals and need to be purged" - when these people say purged, just what do they mean??).
More on the Deschutes Citizens for Law & Order: Their Orestar treasurer is Alayna Weimer, of Ignite Positive Changes – an HR and business services firm based in Redmond. Alayna keeps very busy with the various groups she's the agent for. A notable group whose name you might recognize from 2020: the rabidly anti-mask "parental rights" group, Mom's [sic] for Liberty Deschutes County. Moms for Liberty is a nation-wide effort to abolish public schools.
In contrast, Kropf is endorsed by Stand for Children, "a movement of students, parents, educators, community leaders and education advocates focused on education equity and racial justice. Through our work, we're determined to ensure every student in Oregon has equitable access to a world-class public education."
You can watch their Source Weekly candidate interview here.
State Representative, 55th District: Brian Lepore
Lepore is a Bend family farmer with his PhD in soil science. He's an excellent candidate who knows first hand many of the issues in this agricultural, wildfire-prone, chronically impoverished district that runs from the outskirts of Bend clear to Klamath Falls. Lepore has been canvassing hard throughout his district, and has gotten buy-in from voters all across the political spectrum because he has common sense, practical knowledge, and a willingness to work for his constituents.
Lepore's Republican/Christian Nationalist opponent, E. Werner Reschke, has a track record of voting No on basically anything that will actually help people in his district. He voted against the bill enforcing overtime pay for agricultural workers (thankfully, it passed anyway!); he helped kill a bill that would have allowed incarcerated people the right to vote; during the pandemic, he voted against telemedicine and against relief payments to low-income Oregon households (of which his district has many). Republican lawmakers consistently work against the good of their people, and Reschke is no exception. Vote Lepore.
You can watch Lepore's interview with The Source Weekly here. Reschke didn't even bother to show up.
P.S. Lepore is also running for Deschutes Soil and Water Conservation District At Large, Position 2. If that's on your ballot, you know what to do!
State Representative, 59th District: Lawrence Jones
Lawrence Jones is a public school teacher from Prineville. He considers himself "a middle-of-the-road practical candidate for unaffiliated voters." That's probably about as radical as you can get for most of the voters in deeply conservative District 59. I like his pamphlet statement; he's  pro-union, wants to expand the social safety net, and offers his constituents "compassionate, knowledge-based, effective and consequential representation."
Jones is opposed by Vikki Breese-Iverson, MAGA candidate, who wants to hop over from her expiring term in the 55th district, to the newly redrawn 59th. Breese-Iverson's pamphlet statement has the usual Republican dog whistles: "Traditional Oregon Values," "Portland policies," "Crime Surge," and the very Moms for Liberty take on public schools. Let's try to shut down her political career here and now.
State Representative, 60th District: No Vote
Mark Owens is the only candidate, and he's the Republican incumbent. He probably echoes the values of the majority of his constituents and if he's a MAGA Republican, he's hiding it pretty well. He is surprisingly okayish about affordable housing and some equity stuff. He sponsored this gross anti-abortion bill. He's not great on climate/environment stuff, but decently reasonable about fire and water stuff. I doubt few people from Harney county are doing anything but a hate read of this guide, but I still won't tell you to vote for a Republican – they don't care about you!
Commissioner of the Bureau of Labor and Industries: Christina Stephenson
Stephenson is a civil rights attorney who has for years been helping businesses with compliance and defending workers' rights all over the state of Oregon. This is a perfect next step in her career and I (and an impressive and diverse list of endorsers) think she'll make a great BOLI commissioner.
Stephenson is opposed by Cheri Helt who is proud to tell you she's endorsed by both Chrstine Drazan and Betsy Johnson, but still wants you to believe she's bipartisan (and probably still a "moderate Republican"), despite her MAGA dog whistles in the pamphlet statement. Stephenson, on the other hand, can point to actual bipartisan support: The last 5 BOLI commissioners – both D and R – have endorsed her, as well as the Independent Party of Oregon and hundreds more.
Judge of the Court of Appeals, Position 10: Kristina Hellman
Hellman is the incumbent appointed by Governor Brown, and is running unopposed. Go ahead and fill in that bubble.
Judge of the Court of Appeals, Position 11: Anna M Joyce
Joyce is the incumbent appointed by Governor Brown, and is also running unopposed. Go ahead and fill in that bubble.
Measure 111 - Amends State constitution to establish affordable healthcare as a fundamental right: YES!
In a civilized society, access to affordable healthcare should be a basic human right. I think the way the US has given over our wellbeing to the predatory for-profit health insurance industry is barbaric and amoral. One step on the way to remedying this is to offer taxpayer funded or subsidized healthcare as a public option, allowing the private sector to try to compete in the free market – a very capitalist thing to do, right? 🙃
Measure 111 will only amend the language of the state constitution. It won't set forth any legislation for how affordable healthcare will be delivered throughout the state, but does make sure it will never be at the cost of other state services (education, public safety, etc). Measure 111 is a stake in the ground that will ensure our Medicaid and Medicare cannot be defunded, and in fact, will hopefully lead to Medicaid expansion as a public option – my dream come true!
Measure 9-147 - Proposed Amendments to City of Sisters Municipal Charter: YES
"Among other things, the proposed amendments would (1) clarify certain city manager responsibilities, (2) permit the council to adopt council rules through resolution, (3) remove certain charter sections that may not be in conformity with state law, and (4) remove gender specific pronouns throughout the charter."
You can read the entire proposal here.
Measure 9-148 - Makes County Commissioner seats and elections nonpartisan: YES
Look, no one believes that any candidate for county commission is going to actually be non-partisan. It will be obvious who is in what party by the values they espouse (and we can look up their voter registration).
But this will make the process of electing county commissioners nonpartisan – which means they won't have individual primary races; all the eligible candidates for every seat will get lumped together for us to choose from. More of us will get to vote on the candidates, because about 30% of Deschutes county voters are non-affiliated and therefore can't vote in our closed primaries. And this way non-affiliated or Independent candidates can get on the ballot as well.
Measure 9-149 - Prohibits psilocybin-related businesses within City of La Pine: NO
I hate the double negative inherent in these psilocybin measures; it's tricksy and unethical. Too many people are going to vote the wrong way unintentionally.
In this case, a NO vote is a YES to the possibility of psilocybin clinics within city limits.
In 2020, we voted, as a state, to allow the Oregon Health Authority to set up a new section called the Oregon Psilocybin Services (OPS). The OPS has been working hard ever since to create a strong and effective regulatory framework for the use of psilocybin in clinical settings. As a mental health advocate, I am whole-heartedly in support of the regulatory use of psilocybin to combat mental illness. The OPS has a very thoughtful, constrained, evidence-based approach that is being mischaracterized by opponents as "legalizing magic mushrooms."
I really don't like the precedent of cities or counties getting to opt out of already-settled state legislation like this. Yes, there's language in the Psilocybin bill that allows for this; I still think it's a bad idea. The same people who like to talk big about the "free market" are usually salivating to outlaw all the things they don't like.
Anyway, I don't think La Pine was ever going to be in danger of getting a psilocybin clinic – facilities are most likely going to be spa-like retreat destinations, costing thousands upon thousands of dollars to attend, if other programs are any indication! Here's the Oregon facility that a Netherlands-based psilocybin retreat company just purchased in hopes that Jackson county will not outlaw psilocybin in the measure they're voting on this fall.
Measure 9-150 - Bonds to construct new community recreational facility & expand programs in Redmond Parks & Rec district: YES
This statement basically says it all: "The Cascade Swim Center opened in 1979 to serve an approximate population of around 6,500. RAPRD currently serves a population of approximately 45,000."
Redmond is in desperate need of a recreation center adequate to meet their needs, and large enough to manage the future growth of the city. Bonds are such a fabulous way for the cost of a community project to be spread across the community. The proposed ballot measure is estimated to cost property owners an annual average of $0.56 per $1,000 of taxable assessed value each year of the repayment period - about $10.50/month for the average homeowner.
Measure 9-151 - Five-year operating levy for Redmond park and recreation services: YES
How are you going to pay for the staffing and operations of the fancy new Rec center? With an operating levy, of course! This levy will cost property owners a rate of $0.24 per $1,000 of taxable assessed value, beginning July 1, 2023 and lasting for five years. That's about $4.50/month for the average homeowner.
Measure 9-152 - Concerning psilocybin manufacturing and service centers in unincorporated Deschutes County: NO
Here we are again with the misleading wording. Remember: NO means YES.
Again, like I said: We the people already voted on this at a state level; it is decided law. I think it is an egregious governmental overstep to effectively change the state law at a local level. And, ironically, it's the folks who whine the loudest about "governmental overreach" (like, sensible public health policies during a global pandemic) who just slurp up the actual governmental overreach when it's serving their personal belief system. It's hypocritical and tiresome. I hope they get replaced – and that you'll help do it by voting for their opponents! ;)
Measure 9-153 - Declaring a prohibition on the manufacture of psilocybin products in Redmond: NO
Measure 9-154 - Declaring a two-year moratorium on psilocybin service centers in Redmond: NO
Again, psilocybin is designated by the FDA as a breakthrough therapy and an FDA-approved clinical trial is happening right now. The licensing constraints on manufacture of psilocybin products are strong and safe, thanks to the work of the OPS. It is not an addictive substance; this program is not going to impact the existing recreational use of psilocybin. The people putting these measures together are fomenting fear of "drugs" and bigotry against mental illness, and in doing so are withholding life-saving treatment for people in need.
Measure 9-155 - Bonds for Safety Improvements, School Renovations and Preservation of Facilities in Bend-La Pine Schools: YES
These bonds will allow BLPS to make much-needed improvements and repairs to local schools, without raising the existing tax rate (they'll take the place of bonds that are about to retire). There's literally no good reason to vote no on this.
County Commissioner Position #1: ​Oliver Tatom
I've been a fan of Tatom since he ran for COCC board in 2019, and I said then that he was someone to watch as he takes on more public servant roles. Now he's worked his way up to running for County Commissioner! He's a long-time Central Oregonian and has spent his career working with a wide variety of community members. He will represent our diverse population well and will make wise decisions regarding the inevitable future growth of our county.
Tatom is running to unseat incumbent Tony DeBone. Debone refused to use his position to help keep Deschutes county residents safe during the pandemic, even as the hospital was overflowing and refrigerated morgue trucks were lined up to collect our dead. He also promises to lower taxes to "keep families secure." You know what actually keeps families secure? The social safety nets funded by the county taxes. Debone wants to gut the programs set up to help our most vulnerable citizens with his "all families matter" routine. He says he will work for ALL of Deschutes County, but his actions say otherwise.
Early last year Debone vetoed pursuing significant grant money for school-based health centers to do specific outreach to BIPOC and LGBTQ+ communities because "we should be doing good things for everyone, not just this buzzword terminology." This is so disingenous, since he knows that the school based health centers do serve every student regardless of race, sex, gender, and economic status. The funding was to help vulnerable kids have the same level of access as the rest of the student population – specifically tablets or phones to be able to use telehealth services. Who the hell withholds free money from kids who need support?
I'm tired of DeBone's "Aw shucks, I'm a good guy" schtick; he's playing dumb so he doesn't have to admit he has the same destructive agenda as any other Republican. Let's elect someone who actually is a good guy and has a history of supportive community involvement to prove it.
You can watch both candidates in their Source Weekly candidate interview here.
County Commissioner Position #3: Morgan Schmidt
Schmidt first came on my radar when she began Pandemic Partners, a Facebook group dedicated to crowdsourcing kindness and support within the Bend community. I was impressed by her mediation skills (social media and online forums being what they are) and the influence of decency she had there. Schmidt has led and joined initiatives to help our houseless neighbors, and as County Commissioner, her Housing First philosophy will be essential in making long term changes in our community.

Schmidt is running against incumbent Patti Adair, whose claim to fame is having been Trump's Eastern Oregon political director. She has since scrubbed most of that affiliation from her own online properties and has toned down her QANON-aligned statements significantly, but I'm willing to bet that's a strategic move more than a philosophical one.
Adair and her compatriot DeBone want to rezone 710 acres near Terrebonne from agricultural to rural residential mega-lots, with permission for 71 new wells to be drilled into our waning aquifer. This is a horrendously terrible idea for the ecosystem, for our local food growers, and for our desert home. Pretty much everyone they consulted said this is a terrible idea, but they're both owned by the Central Oregon Association of Realtors PAC, so that's who they're listening to.
Also, Adair, like DeBone, promises to cut taxes and reduce county spending like it's a good thing. This is the opposite of what we need. A well and thoughtfully funded county is a functional, supportive, beneficial home for everyone. Cutting funding brings direct harm to our most vulnerable neighbors. Schmidt's track record for caring for "the least of these" is undeniable; she will make fair and equitable choices for Deschutes county that will benefit us all.
Deschutes County Clerk: Steve Dennison
He's the only candidate and that's fine; no need to write in an alternative.
Deschutes County Treasurer: Trevor Lewis
It was such a delight to be reading through the pamphlet and see a young face amongst the sea of old/er white men running for down ballot positions! Information about Lewis was sparse, but I found that he'd been endorsed by the Deschutes Dems, so I emailed him to ask some questions for my voters.
The first thing you should know is that Lewis is a self-described economics nerd. I love this. I think nerds are the best in general (I'm married to one) and they're usually the most competent person for the job they're nerdy about. Y'all, this guy writes brief digests on bond markets and Federal Reserve activity for fun. He's gonna do a great job keeping track of the county's money and he's committed to making public policy easy to understand and accessible to voters.
Lewis also shared: "Personally, I'm an avid outdoorsman, motorcyclist, and music fanatic. I grew up going to punk rock shows and being part of a community that is generally fed-up with not having their voices heard. It's that spark that made me want to run for public office."
The punk rock ethos is one I'd like to see more of in politics (it's the reason so many people love Beto's vibe, whether they realize it or not). I love that someone like Lewis is running and I hope other Millenials and older Gen Zs are inspired to start running for public office!
Lewis is opposed by Bill Kuhn, who I have nothing against; it sounds like he's done some nice things in the community. But at what point is the old guard going to step down and raise up the new generation of leaders? With a candidate as solid as Lewis, it's time.
City of Bend City Council, Position 4: Barb Campbell
Hey, young punks!  This is your call to run for local office in 2 years!
For a long time, Barb Campbell was the most progressive, transgressive voice on Bend City Council. I adore Barb; she has tons of experience, is willing to change her mind when she's given a broader perspective or more facts, and she has a deep, true love for Bend. My hope is that Campbell can retire from City Council in 2 years, proud of her work over the years and committed to championing younger, more progressive councilors.
Campbell's opponents are NIMBY Queen Karon Johnson, Bill Olsen, a local realtor who barely seems to be campaigning, and Erlin Taylor, a real estate puppet who doesn't even live here.
You can listen to the Bend City Chamber candidates' forum here, or read local hero Tailor Glad's transcript here (subscribe to his substack, please, and keep abreast of all the City Council happenings!) Everyone but Olsen showed up to the Source Weekly's candidate interview, which you can watch here.
City of Bend City Council, Position 5: Ariel Méndez
I'm a long-time fan of Méndez and am delighted that he's running for City Council. In this campaign, Méndez's benchmark for what makes a city liveable is "Does it work for the children?" I love that. I think that when we aim our focus at helping our most vulnerable populations, everyone benefits – it's a "trickle up" approach that has proven successful in many other areas.
As a Parks & Rec board member, Méndez has been absolutely obsessed with (and successful at!) expanding our urban bike trails, and I am here for it. With him on City Council, we are going to see even more progress there. Yay bikes! 🚲
Méndez is running against Sean Sipe, a Kevista Guy, and another Central Oregon Association of Realtors' pet candidate. His language about wanting to sort houseless people into categories of deservingness is pretty gross, and his allegations that the City Council is basically a left wing extremist group that doesn't listen to the needs of the Real People of Bend is quite the red flag (and a lie). I will give him this: his sign may be the prettiest in Bend.
You'll hear this a lot from conservative and Republican voters (almost every GOP candidate running locally has been quoted saying similar): "City Council refuses to listen to The People or seriously address The Issues." This couldn't be farther from the truth!
Our current City Council is soliciting feedback from more community members than ever before. There are currently 16 advisory groups whose research and discussions inform Council decisions, and there are 11 vacancies on those panels, so anyone who doesn't feel heard can stop whining and go apply to volunteer their time where they will literally have a say.
What's actually happening is that the City Council has started seeking out the voices of people who don't look or think or live like Sipe, et al, and they don't like it. They sound like they miss the days when they could make unilateral decisions without taking into consideration the needs and desires of human beings different from them. People who act like increased equality is oppressing them, are not the people to put in charge of the long term healthy growth of our city, county, state, or country.
You can listen to the Bend City Chamber candidates' forum here, or read local hero Tailor Glad's transcript here (subscribe to his substack, please, and keep abreast of all the City Council happenings!)
City of Bend City Council, Position 6: Mike Riley
Riley has lived in Bend for over 25 years and has been the Executive Director of the Bend Environmental Center since 2008.
I'm happy someone with Riley's ethos is up for tackling Bend's housing crisis and transportation needs. He'll be more about affordable infill than expanding the UBG out into our wilderness, and creating safer bike/walk/roll routes and better mass transportation instead of a "build more lanes!" type car-centric approach.
Riley is opposed by Julia "The people [bullying the school board] were mistreated" Brown (maybe? she's not in my printed voters' pamphlet now) and Rick "Cars over Bikes/Homeless People Get What They Deserve" Johns, both Republicans and both courting the votes of those irrationally terrified that Bend is going to "Turn into Portland." Johns promises to "work closely with the 13 Neighborhood Associations to listen to and represent ALL opinions and voices." Guess what, friend, that already exists! IMO, Neighborhood Associations have way too much sway already and tend to work against the best interest of the entire population.
You can watch KTVZ's interview with these candidates here.
You can listen to the Bend City Chamber candidates' forum here, or read local hero Tailor Glad's transcript here (subscribe to his substack, please, and keep abreast of all the City Council happenings!)
City of Bend Mayor, Position 7: Melanie Kebler
Kebler is a tireless, passionate leader and we would be incredibly lucky to have her continue her councilperson efforts as Mayor. She's a super nerd about the local government issues Bend faces, and has been putting in her time finding solutions for the last 2 years. She's exemplary and I look forward to seeing what she does politically in the future; I wouldn't be surprised if she's Oregon's next Jamie McLeod-Skinner.
Kebler is running against Chris Piper, the guy who literally phoned in his City Council interview and was installed amidst a ton of drama. Voters did not choose him to retain his seat when he ran for election in 2020, and instead voted in the most progressive City Council yet.
Piper has stayed active in the Bend political scene, propping up the deceptively named Bend Humanity Coalition and as an Idea Guy who either claims other people's efforts as his own, or acts like he's the first person to think of a solution that other people (usually Kebler) are already implementing. His platform is mostly asking rhetorical questions that begin with, "Why isn't anyone doing anything about ____?" and completely ignoring the fact that there are dozens, maybe hundreds of people doing something about that. It's exhausting. He's exhausting.
Please vote for the person who has identified the needs, collaborated on solutions, and is already doing the work. And who isn't owned by special interests.
Nearly $52,000 of the $113,000 Chris Piper has raised so far comes from the housing special interest groups: Pahlisch Ventures = $10,000; Central Oregon Builders Ass. = $20,446; Central Oregon Realtors PAC = $21,351.
Melanie Kebler has 200+ unique donors and isn't owned by anyone. She's truly a public servant and – again – what a privilege to be able to vote for such a qualified, capable, and passionate candidate!
You can listen to the Bend City Chamber candidates' forum here, or read local hero Tailor Glad's transcript here (subscribe to his substack, please, and keep abreast of all the City Council happenings!)
La Pine Mayor and City Council
Sorry, y'all don't have choices this year. If you're down there and want to contribute to La Pine's growth, run for office!
Fitch is a former mayor and a current city councilperson, and has a nice platform that includes prohibiting Nazi flags/paraphrenalia at city events (parades), and promoting diversity and inclusion. Most of his answers in the candidate panel have circled back to blaming the current City Council. If y'all give him the mayoral seat, I hope you also vote in a Council that will support his plans!
He's running against Jay Patrick, Ben Schimmoller, and Charles Webster Baer.
Baer is confoundingly a self-described Buddhist/Libertarian/Depopulationist and seems to eschew capital letters unless it's ALL CAPS. His website is quite a trip and my only addition to his FAQ is if he himself has been sterilized or is he putting the One Child onus on women only?
Jay Patrick is a long time resident of the area and has been on the City Council for 20 years. He seems like a sweet guy, and, although he's a conservative, he's not making any horrifying public statements that I can find.
If you have friends and family in Redmond who insist on voting conservative, please steer them toward Jay Patrick. Schimmoller is being very discreet with his public statements, and he is keeping his debates pretty bland. But what's underneath is anything but.
Schimmoller's list of endorsements is a who's who of Deschutes county conservatives and Far Right activists, including Robert Perry, founder of the Redmond branch of the Trump hyper-loyalist Patriots Party. The Redmond branch used to be the local Tea Party group, back in the day, founded by Perry in 2010. But the official inception date of the Redmond Patriots Party is, surprise surprise, January 6, 2021.
You can watch KTVZ's 3-part mayoral debate here, here, and here. Part 3's final remarks get a little spicy with Fitch pointing out the lies Schimmoller's been throwing at his campaign; Schimmoller's rebuttal was very weak!
These candidates are going to be the City Council that helps Ed Fitch get his goals met. They all present as much more moderate/centrist than I tend to prefer, but I think that's because they have a firm grasp on what Redmond is going to vote for. I'm not their target voter.
All three of these candidates are endorsed by The Vocal Seniority, a group of progressive senior citizens (and honorary senior citizens; they're inclusive) who are prominent in local protests and letters to the editor.
Trumble ran and lost against Eileen Kiely in the 2018 Democratic primary for Oregon House of Representatives District 53 and has a kickass mustache (no, that's not weighing my vote, silly, but check out his Voters Pamphlet pic). His platform is "Running for Issues and Solutions, Not Against Others." He wants Redmond to be a Welcoming City, and draws the line at inclusivity meaning tolerating Confederate flags flying around town, or people who intimidate high school students about wearing masks or getting vaccinated.
Osborne has been doing fantastic work on the Downtown Urban Renewal Advisory Committee, not only making downtown Redmond shine, but bringing workforce housing to the city core. She has her masters in Business Administration and is a strong advocate for Redmond's small businesses, families, workers, and children.
Nielson is the most centrist of the three and a little more Both Sides-y than I think is reasonable, but his platform is solid. I appreciate his philosophy, as expressed about dispensaries in Redmond: "Bottom line for me, that I don't like it is not a reason to make it illegal or ban a legal business from our city." If that's how he approaches other issues, Redmond is in good hands.
NO: Branegan Dixon is endorsed by Deschutes Citizens for Law & Order, "a grassroots group of Central Oregon citizens concerned about lawlessness, in particular the political violence by radical leftist/communist groups and then sanctioned by social activist politicians and District Attorneys." The group is also supporting Michael Sipe and Patti Adair.
I honestly don't have anything against incumbent Cat Zwicker's work on Redmond City Council so far, and I think I've got friends who are going to vote for her. But unfortunately, she is endorsed by Republican stalwarts Bev Clarno, Jack Zika and Justin Livingston, which gives the other three candidates the edge in my rubric.
You can listen to interviews with each candidate (and many others!) on KPOV's Election Coverage page.
City of Sisters, City Council: Susan Cobb
Here's how the vote works: There are only 3 candidates. The top two vote-receivers elected to four-year terms commencing January 2023, and the third top vote-receiver will be elected to a two-year term commencing January 2023. I'm just going to tell you one person to vote for because the other two seem basically the same-ish.
Cobb is a retired systems analyst and project manager, and the incumbent. She wants to advocate for sustainable growth, environmental awareness and wildfire prevention, and to make sure that the Sisters' quality of life is available to all residents. She's an Indivisible leader, an avid quilter, and proponent of affordable housing and dedicated multi-use paths in town (woo!).
Deschutes Soil and Water Conservation District At Large, Position 2: Brian Lepore
Go Brian! Make sure you voted for him as your Representative, too!
Deschutes Soil and Water Conservation Board member, Zone 4: Write in - Megan Kellner-Rode
Kellner-Rode is one of the farmers behind Boundless Farmstead. She has been a board member at Bend Farmers Market, High Desert Food & Farm Alliance, and Central Oregon Locavore, and is the organizer of the Central Oregon Fill Your Pantry event. If you follow Kellner-Rode on Instagram, you'll see in her posts how passionate she is about the land and water of Central Oregon, and how lovingly she stewards the farmstead. She's deeply involved in the community she wants to serve in this position and will bring her firsthand understanding of sustainable farming to the role.
Measure 112 - Removes option of enslavement/forced labor entirely from Oregon Constitution: YES
Our current state constitution prohibits slavery and involuntary servitude in general, but allows it as a punishment for crime.
[If you weren't aware, forced prison labor is still allowed under the US Constitution's 13th amendment (although our beloved Senator Merkley has joined Georgia Congresswoman Nikema Williams to change it!) and is a multibillion dollar driver of the US economy today.]
Opponents of this measure talk about how there aren't exceptions for the current prison work programs that could contribute to a reduction in recidivism. Well, guess what – those programs are due for some reform anyway; the average Oregon prison worker earns about $8 to $82 per month (it's worse, though, because "Oregon does not pay wages to incarcerated workers. Compensation is paid via the Performance Recognition and Award system, through which workers may receive points that may be converted to a monthly monetary award." Oh, and the prison or the state can garnish up to $400 of their savings.)
I feel like everyone ought to agree that enslaving people for any reason is evil, but here we are, taking a vote on it. Please vote Yes!
Measure 113 - Disqualifies walkout candidates from holding office in next term: YES
Remember those years when the Oregon GOP congresspeople were having their tantrums and choosing dereliction of duty rather than show up for mature legislative efforts? Republicans walked out many times throughout 2019, 2020, and 2021 because they weren't getting what they wanted because they are in the minority, BECAUSE THE MAJORITY OF OREGONIANS FAVOR DEMOCRATIC LEADERS. By walking out, they denied the quorum required to pass legislation and brought our government to a standstill.
This measure will amend the constitution to penalize any legislator with 10 unexcused absences from the legislative floor sessions: they won't be able to hold office as a legislator in the next term.
It is perfectly reasonable that if you're unwilling to do your job in good faith, you shouldn't be allowed to hold the position. Clear out for someone who will actually engage like an adult.
Measure 114 - Gun Control Stuff: NO (Hear me out!)
Hooo boy. I'm already flinching in anticipation of how many of my liberal friends are going to hate me for this. But y'all, it's just a bad bill. I know the words "Gun Control" can be exciting to hear – and I'd love to see more sensible, evidence-based measures that prevent harm without punishing law-abiding citizens (and we already have quite a few good ones!). But this measure is just sloppy.
First, it introduces an absolute muck and mire of redundant bureaucracy that is going to be the justification for law enforcement throughout the state to demand more funding. As you all know by now, I don't like funding the police.
Second, it lets local law enforcement decide who gets to have a gun, with no clear, universal guidelines or oversight. HOLY SHIT, THIS IS A BAD IDEA.
Like, in general, I am not a proponent of a police state, okay?
And specifically, may I remind you who our sheriff is? The guy who has been the focus of lawsuits in the multimillions for retaliation, civil rights violations, gender discrimination and harassment?  The guy who targeted and harassed County Commissioner candidate Morgan Schmidt in a public training last year? The guy who hired Josh Spano, the City of Bend police corporal with all that right wing extremist stuff? (An internal investigation eventually cleared Spano with some very dubious justifications; the police policing the police is...not ideal for the rest of us).
You probably know the racist origins of law enforcement; the racist origins of US gun control; the racist history of Oregon in general; and the prevalence of white supremacists and far right militancy in law enforcement. Why on earth would we put those guys in charge of who gets the guns?
Take this back to the drawing board and write an educated, clear-language gun safety bill that builds in funding and requires a ramp-up period for the new programs it wants to establish before the law goes into effect, and that doesn't place licensing power in the hands of local law enforcement. And pass more stuff like Measure 111, which, in actuality, will impact gun violence more than any gun restriction law!!!
---
Okey dokey, that's your voting guide. Share it wherever you share things, and encourage all your friends to vote all the way down ballot. We have important ground we cannot afford to lose.  💙​  Thank you for voting!
Join the newsletter to receive the latest updates in your inbox.